It's not every day you get Joy Corrigan, Josie Canseco, and Chantel Jeffries in a pool together. Or sit in between Victoria Justice and Madison Reed for a soothing sound bath — so you'll have to forgive us if we're still telling anyone who'll listen about the all-out Alo House fest that we can't get off our minds.
Shop Now Alo Yoga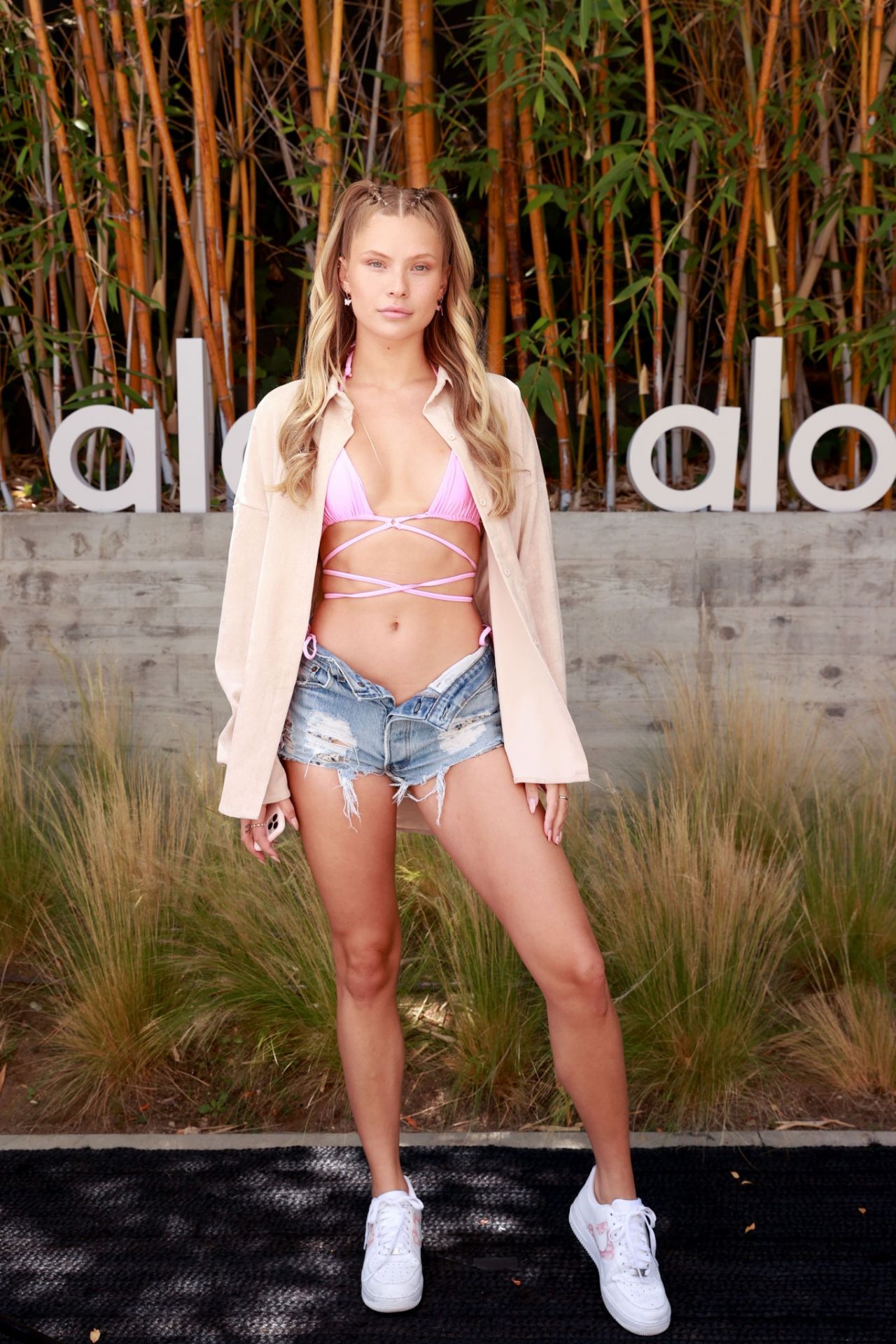 Between almost spilling our Amass cocktail on Janel Parrish and keeping focused on Ashley Galvin's power sculpt class when the Selling Sunset crew walked in, we're endlessly grateful for the experience. We're also beyond grateful for the Skin Witch's facial, which kept us calm, cool, and collected during a star-studded five days at Alo House.
P.S. for those wondering, it was during the pool party that we realized bachelorette Clare Crawley and Dale Moss are IRL #couplegoals. 
Amidst countless magical meetings and chance encounters still left to share, we're reliving the joy of connecting with our community at "the yoga bash" to end all yoga bashes.
Whether it was the fact we were flowing with Diplo or just the fact we were flowing in real life with other human beings, the euphoric feeling of community was once again alive and thriving.
While we spent many days dreaming about being in the studio again, we can't say we ever envisioned a studio packed with the Tik Tok Fam. A round of boxing with Charly Jordan and Taylor Holder? A clean beauty spa sesh next to Tessa Brooks and Madison Lewis? This definitely beats our wildest post-pandemic dreams.
Amongst a group of the fave people we've loved from afar the past year, Alo House attendees also debuted epic new Alo goodies that've never looked so dang good. TINX debuted the Captivate Crop Short Sleeve, a yoga-in-the-front, party-in-the-back vibe that was Alo House-approved. Sami Clarke and her boo JT Barnett dressed to impress in a Fuse Bra Tank for her and Idol Performance Tank for him. Giving BFF's Peta Murgatroyd and Sharna Burgess a run for their money: Kendall Jenner's fave Varsity Tennis Skirt and the brand new Choice Polo. 
And how rude of us to not yet mention the other stars of the show: Buttercup, Ocean Teal, and Pink Lavender. The sweetest summer colors we can't live without after seeing them on Tawny Janae and Christa Allen. 
After seeing these show-stopping colors in action, Sarunas Jackson and his brother Darius hit the Gifting Suite for some new tanks and shorts while Duke Ihenacho and Chanel Delisser headed to the Alo Bronco for the iconic pic we've all been wanting to add to our feed. 
Before slipping into their Alo x Frankies Bikinis swim for the pool party, Lexi Woods and Georgia Bryan shined bright in Summer Sunset Dye sets for acro yoga with pros Jon Rea and Julio Bajdaun— and F.Y.I. it was a site more beautiful than any summer sunset we've ever laid eyes on. 
Rumor has it there's another Alo House planned — and because we've been practicing our Crow Pose to show off to Andrew Sealy, we hope the rumor mill is right. While we can't wait to reconnect with Alyson Stoner and Annahstasia Enuke, we're also anxiously awaiting intros with some new faces on the next go-around. Until then, we'll be reminiscing on Alo House LA (follow @Alo and @AloYoga to follow along with our digital scrapbook) and practicing our vocals for Benny Blanco.
Post from: Alo Yoga