A leather jacket is the piece of wardrobe that never gets old. Years and years are passing, and still, it continues to be our holy grail. Can you not imagine your life without a jacket made of leather, or are you just trying to find the perfect one for you?  would be happy to help you make the best choice possible. New and exciting ideas are coming, so read on and get inspired with us.
What To Wear With A Leather Jacket For Women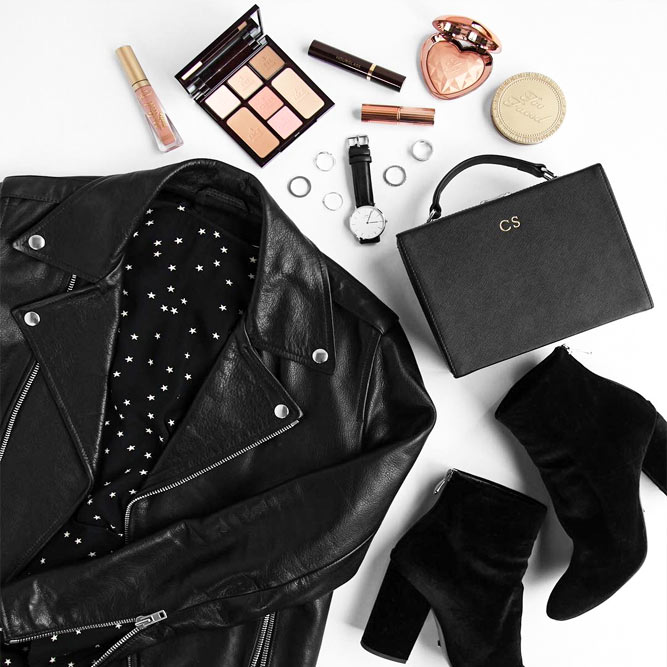 We are so glad to help you with finding your favorite way to wear a leather jacket. There are so many exciting ideas that will become the part of your outfit favorites. How about combining a feminine style with a piece like that? We love it! Dresses with leather jackets look so good together! Short or maxi – it`s up to you. Find your perfect variation, and you will feel so good during the day. Have you heard of the floral Dress trend that goes so well with the jacket, too? Don`t hesitate even for a second and try it on as soon as possible. Of course, don`t forget about the most popular way of wearing a leather jacket. A Jeans and leather combination is classic and will never go out of fashion.More from Fashion
Don`t Forget About Accessories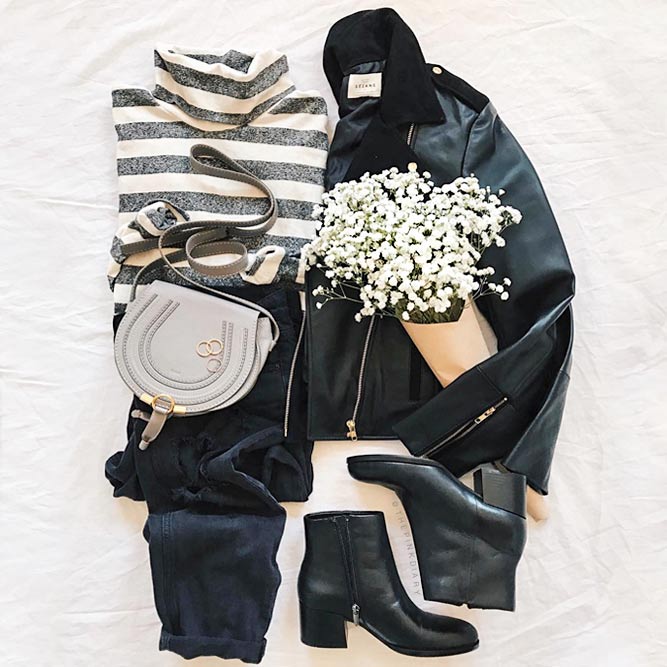 Do you like adding little touch-ups to your appearance with the help of accessories? That`s how you can brighten the look and bring in some spiciness. Rings, a watch, glasses, little chains, and earrings are always a good idea when you are trying to complete the outfit. Choose minimalistic designs that will not be too loud. And voila, you`ll look classy and stylish at the same time, wearing a leather jacket. Remember about colorful scarves, bags and hair accessories that can bring some mood to the way you look. Don`t be afraid to be different.
A Lifesaving Leather Jacket For Women Combination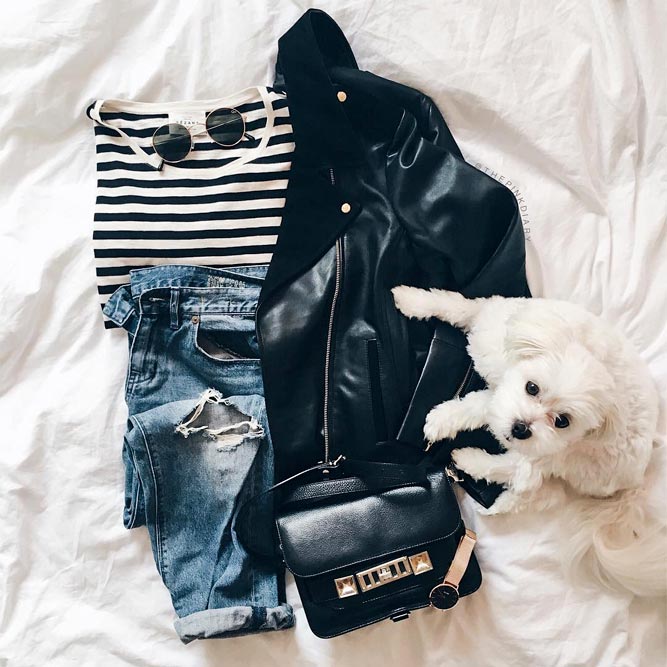 Put on your favorite jeans, any t-shirt or shirt, get on your leather "friend," and you are ready to go! Isn`t that a life savior for any day? We think it is. This outfit idea won`t leave you unsatisfied with your appearance. Simple and super stylish at the same time, it will also make you feel comfortable during the day. Isn`t it perfect on a daily basis? Bring in something new into your casual style.
Leather Jacket With Dress
Romantic Combo With Lightweight Dress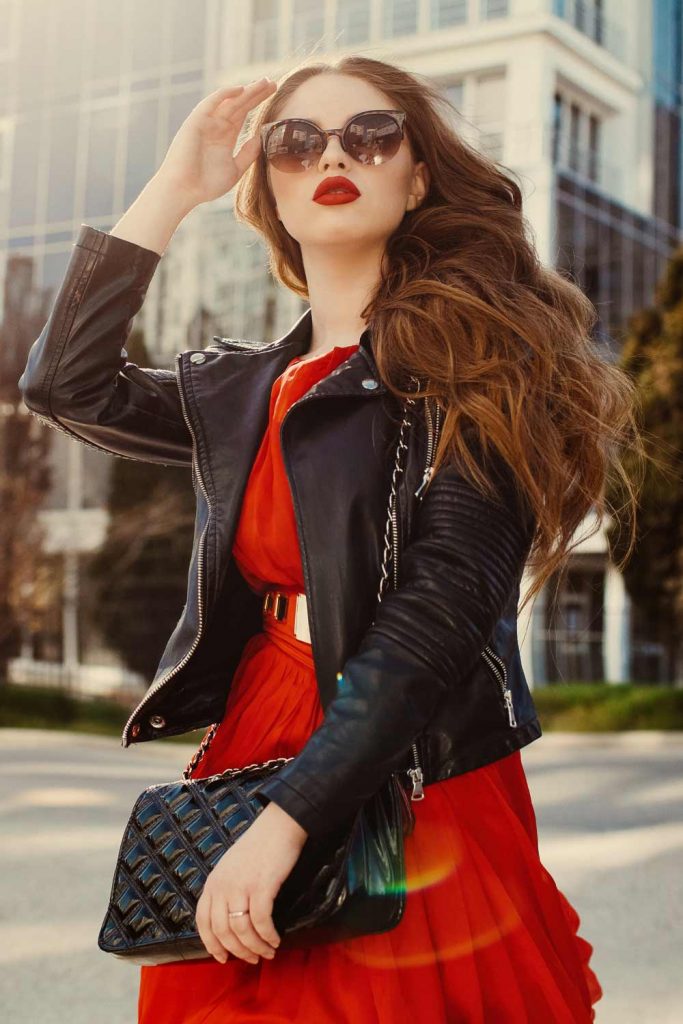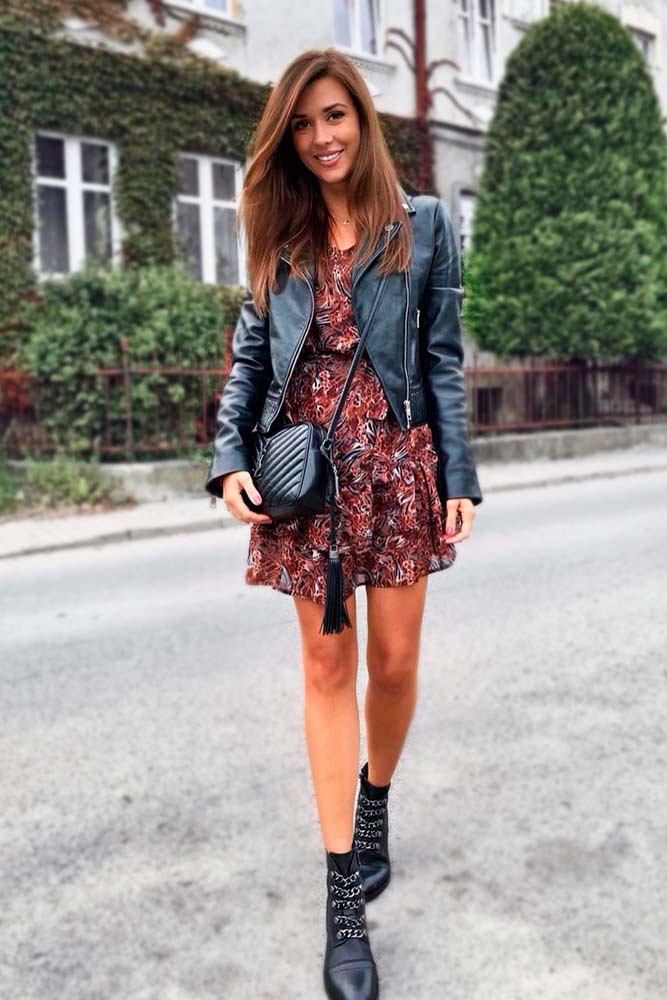 We agree that leather jackets are a bit edgy and rebellious looking. However, one simple detail can change things. What we have in mind is a lightweight dress. The combination of these details will make your look romantic and feminine but with a hidden spice to you!
A Leather Jacket With A Sweet White Dress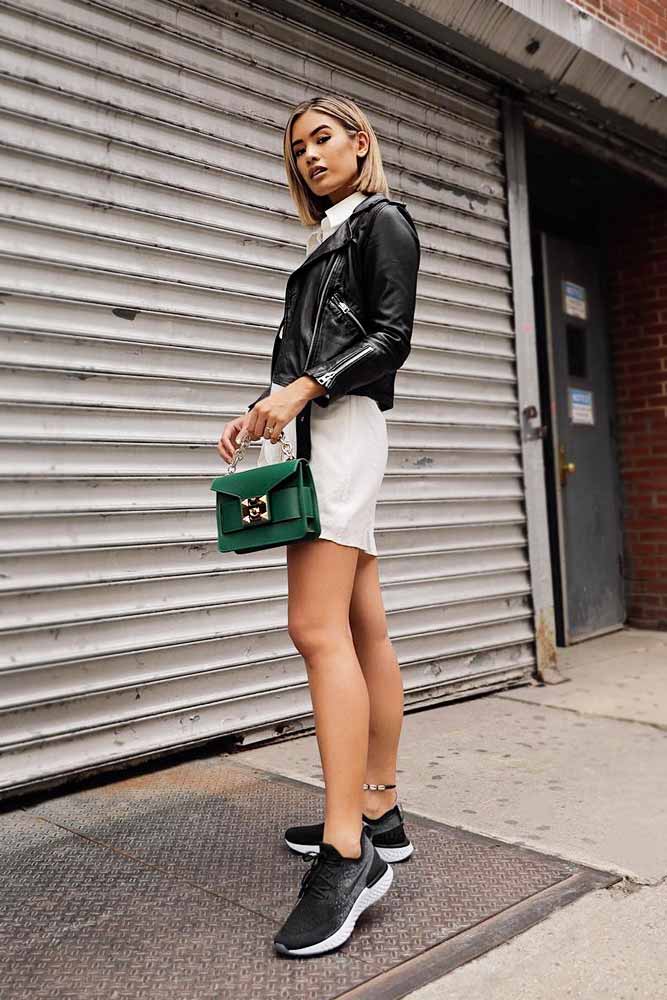 As we have already told you, combining feminine dresses with grungy leather jackets is the key to looking cute and stylish on a daily basis. What about choosing a short, super airy White Dress? With such a basic color and the cute vibe it radiates, this little dress gives a perfect chance to bring in a more massive piece like a leather jacket without looking too much. Choose a casual pair of shoes to go, and you are ready for a great day ahead!
How To Rock A Black Leather Jacket With A Midi Dress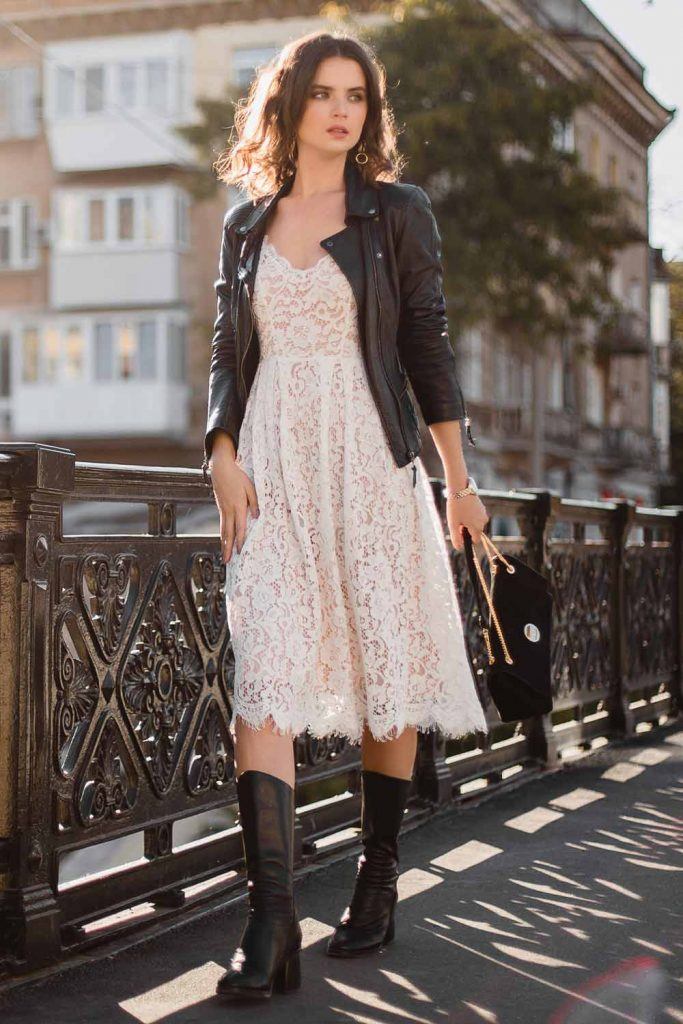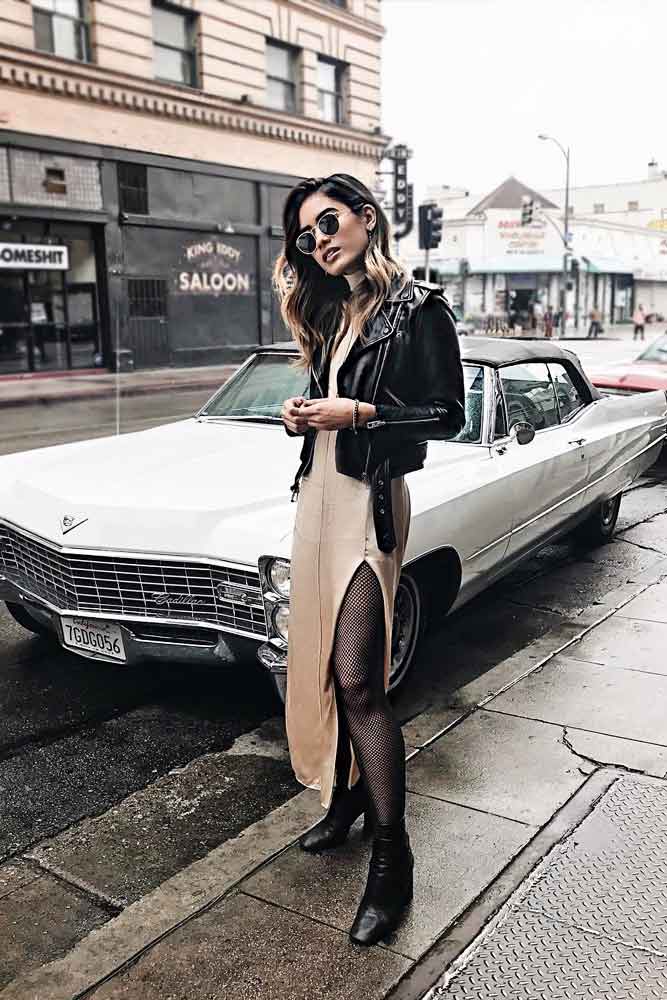 There are so many different types of Dresses that will look so great in combination with a leather jacket. However, we believe this one to be super special. Choose a longer midi dress for a colder day and add a leather jacket to the look. With the difference of length and moods, these two pieces will look bomb together.
Suede Jacket With Sweater Dress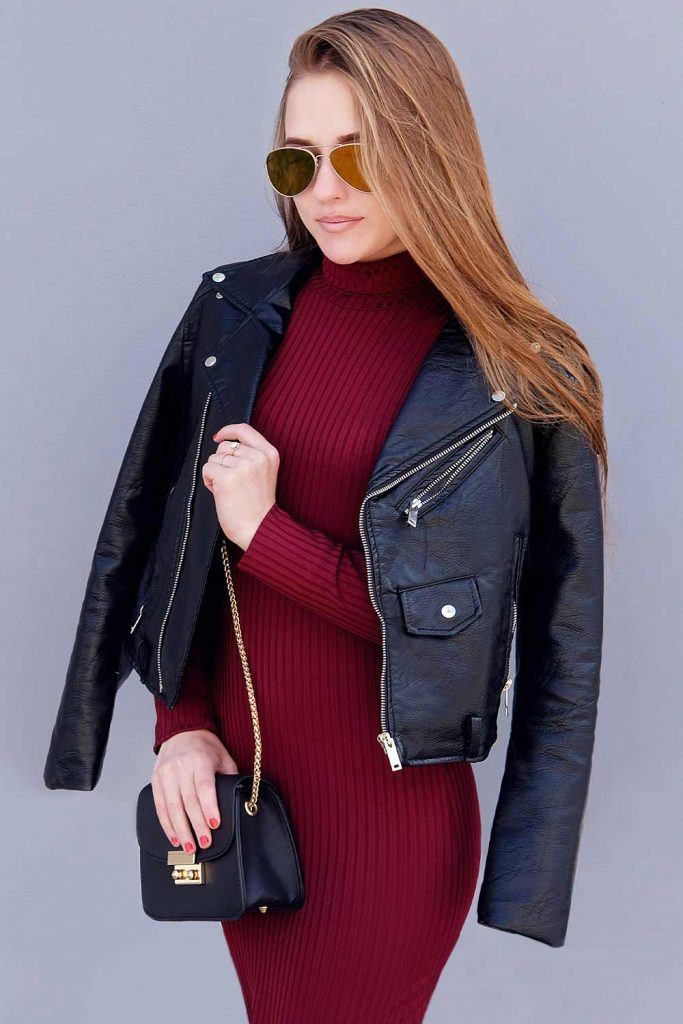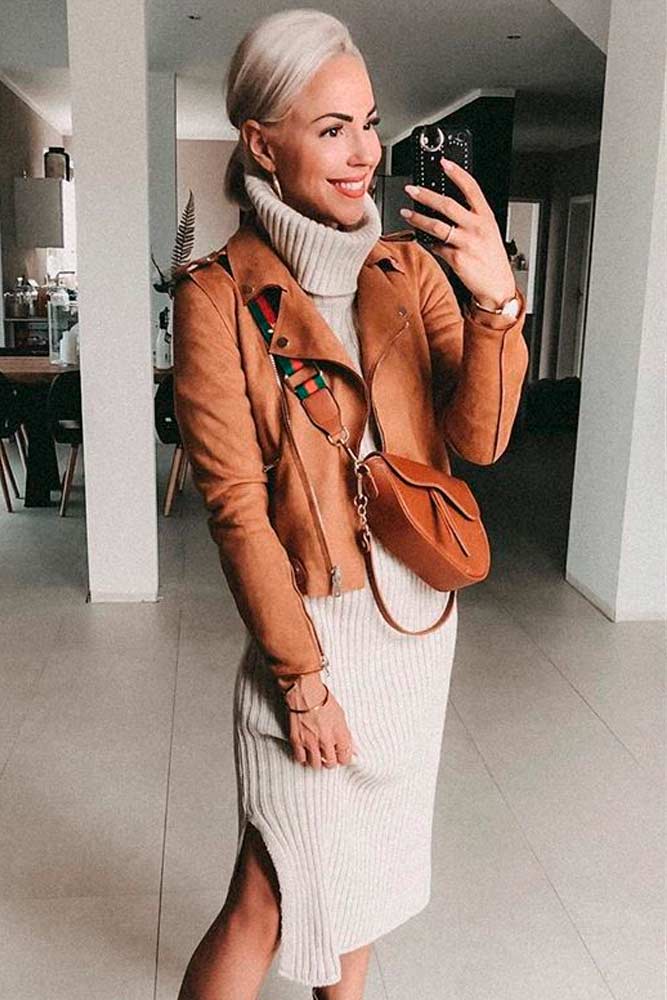 If you think that there is only one sort of a leather jacket – you are deeply mistaken. There are many sorts and variations of it to consider. For instance, foxy suede jacket will complete your cozy, and autumnish sweater-dress look like nothing else!
Emphasize Your Femininity With A Long Dress And A Leather Jacket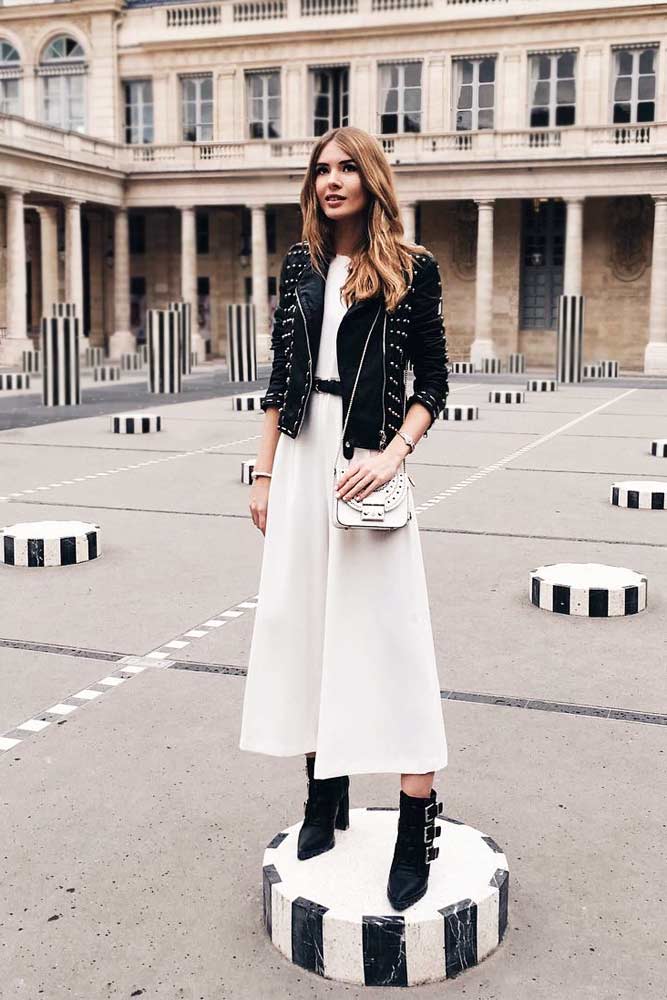 One of our main ideas about clothes is to identify ourselves, and this outfit will help us do it for sure. Find a perfect Maxi Dress that breathes with femininity and add a leather jacket to bring in some character. A spicy mix that will reflect your inner world.
Leather Jacket for Sporty Style Lovers
A Sporty Look With Leggings And A Leather Jacket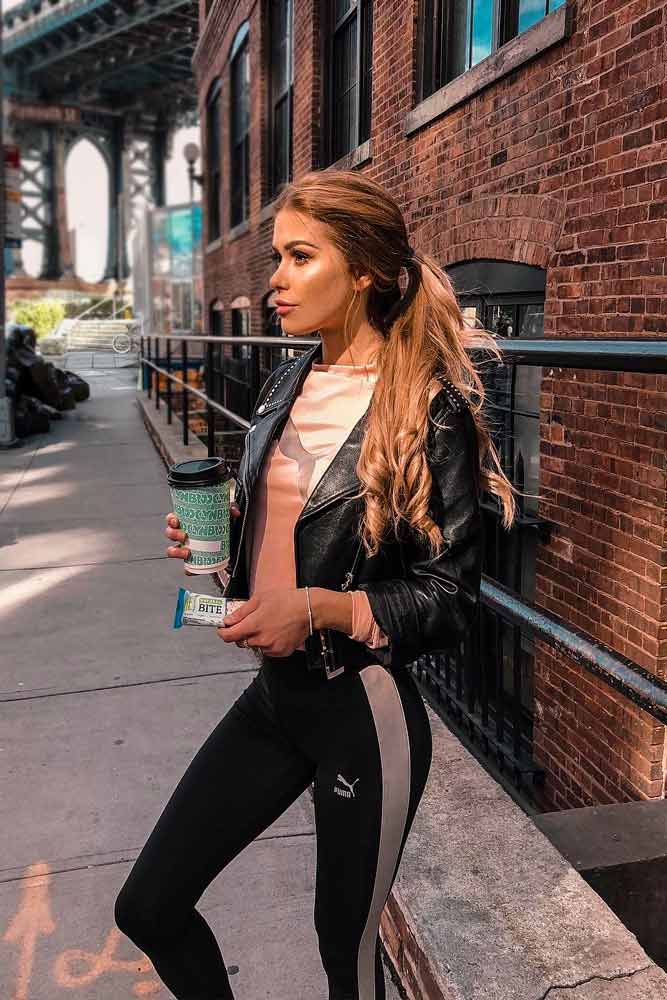 There are days when we are not keen on thinking about what to wear too much. This doesn`t mean we can`t choose something good-looking and stylish. Try on a sporty look. A pair of leggings and a sports top will be the perfect choice for a lazy day. Put on a leather jacket to bring in some mood to the look, and you are ready to chill!
A Sports Chic Outfit With A Bright Red Sweater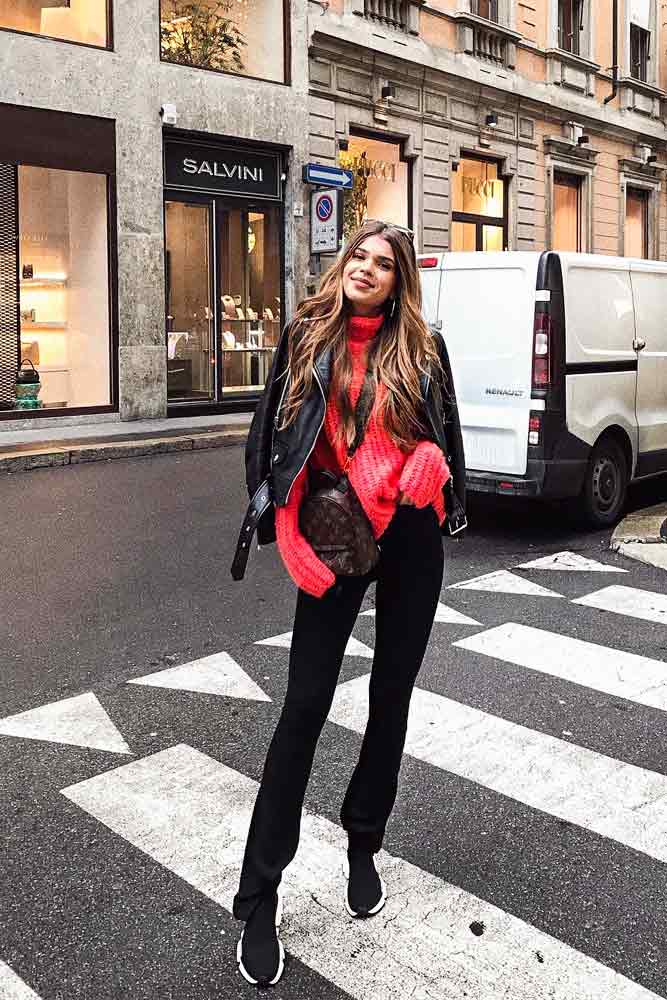 Sports chic is a new style that has changed our fashion world so much recently. No one is surprised nowadays to see the combination of class and sport in the outfit. That is why you should try it, too! A bright red sweater with a leather jacket that goes well with classy long trousers and trendy sneakers. Daring but so good-looking!
Belt Your Sweater Over The Waist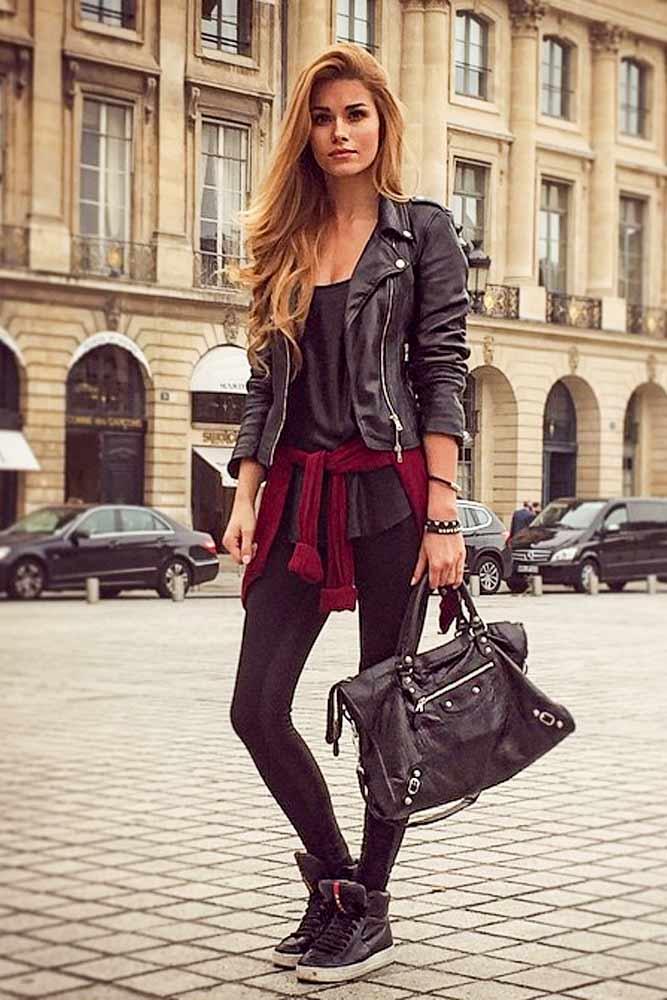 Another way to use a leather jacket for a relaxed look is to pair it with a sweater hanging tied from your waist. Such a trick brings the mood to the whole appearance. Put on your favorite leggings, sneakers, and you are ready to go out, feeling confident and comfortable.
How to Combine Leather Jacket and Skirts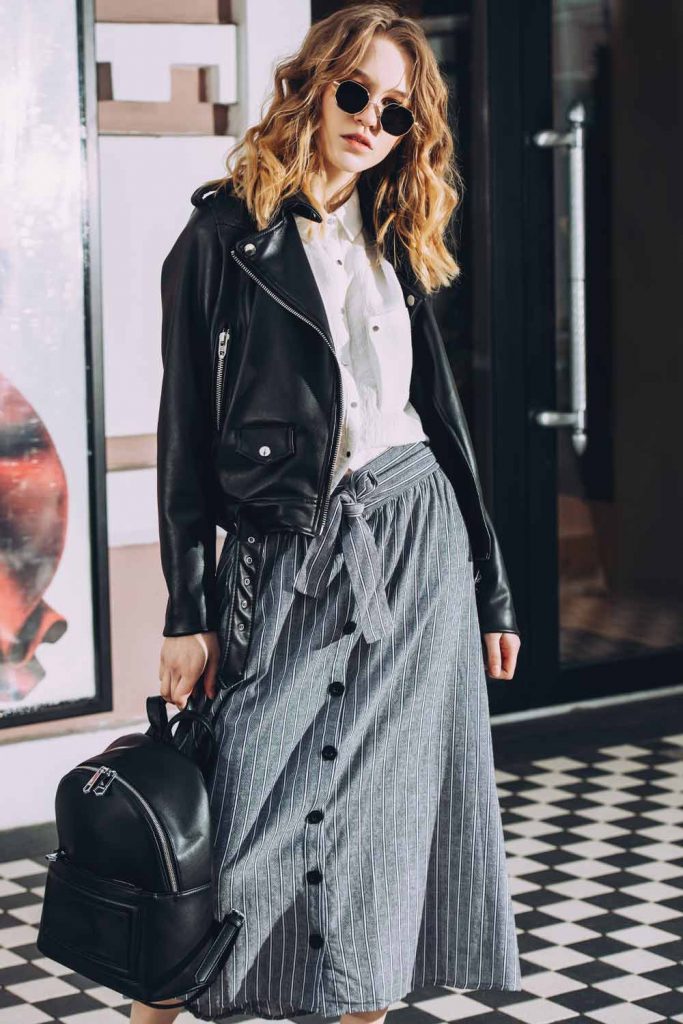 Cute Outfit With A Skirt For A Classy Look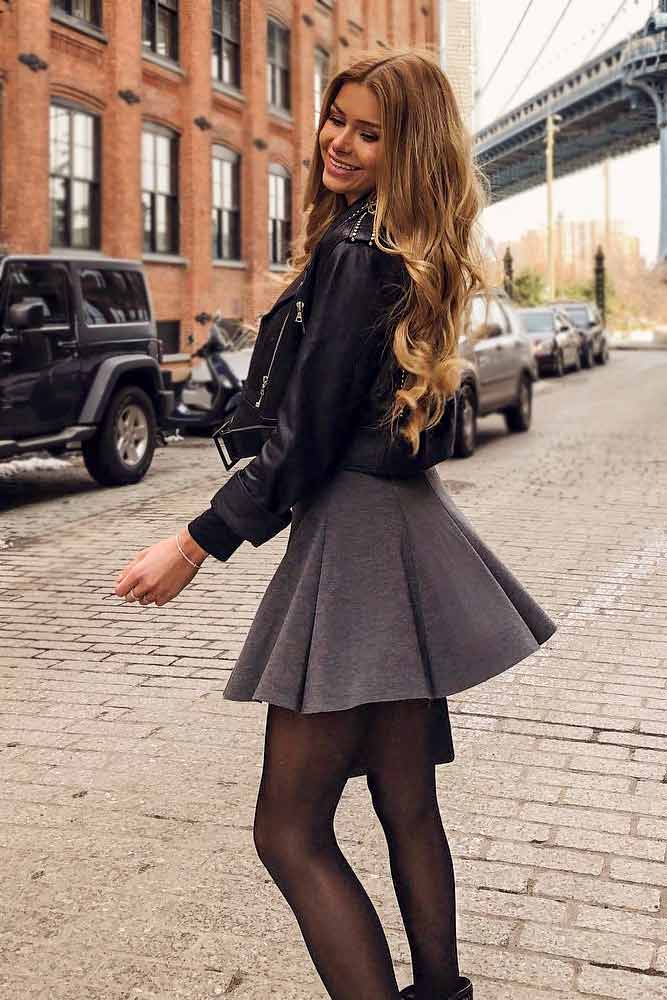 We love the idea of bringing a leather jacket to the classy look. It mixes strictness with some casual flair, making the whole outfit not so formal. Try combining the leather piece with a skirt. Long, short or midi, it will look so gorgeous for any occasion you choose.
Rock A Long Dress And High Heels With A Jacket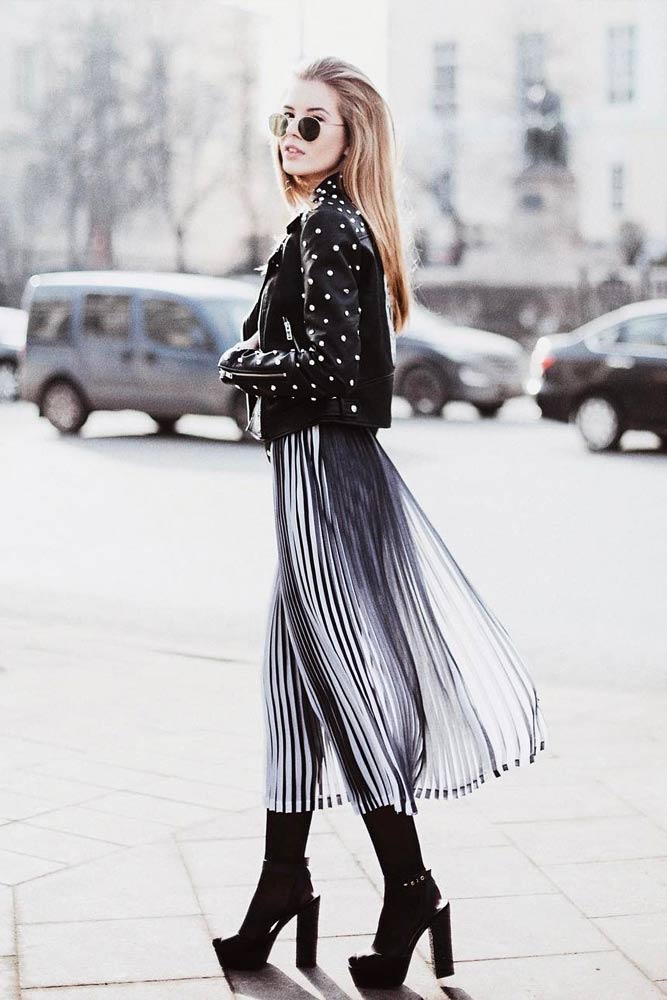 Are you ready to experiment with us? Then choose a punk leather jacket with tiny exciting details, a long dress, and high heels. The difference between the textures, moods, and styles will make the whole outfit so catchy and beautiful in its own way that it will become your favorite look for going out.
Monochromatic Leather Jacket Outfits With A Skirt And OTK Boots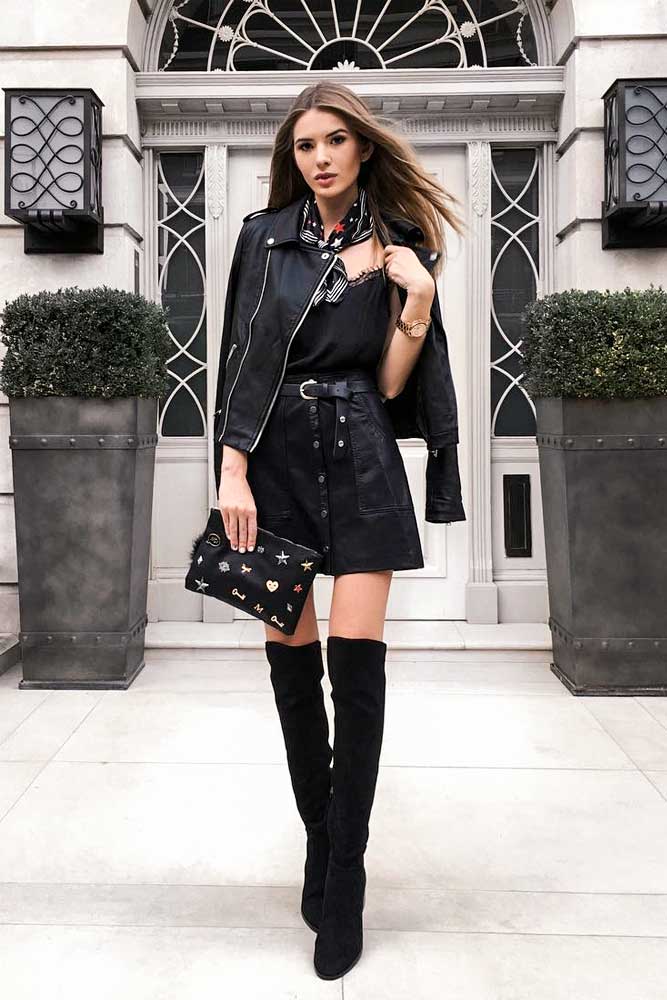 Monochromatic looks are back in trend, and there`s nothing new about it. With the same color, we are given the opportunity to experiment with styles, textures, and fabrics. This is what we should do, bringing a leather jacket into such an outfit. A top, a skirt, OTK Boots and a leather jacket will make you feel sexy and stylish. Are you ready for it?
Leather Jacket and Jeans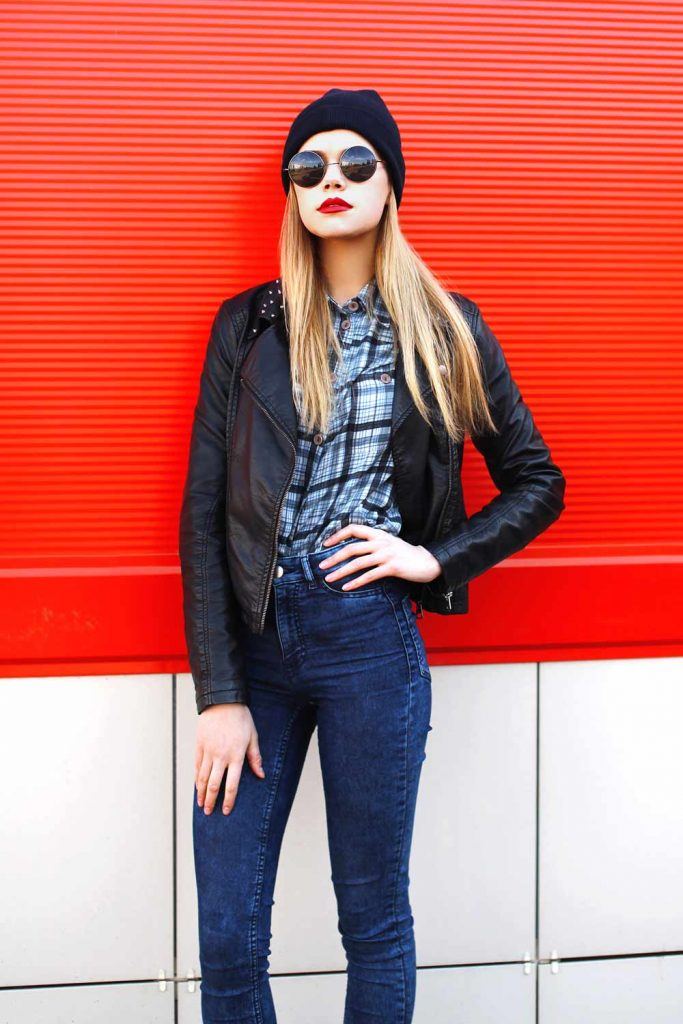 Casual Look With Oversized Biker Jacket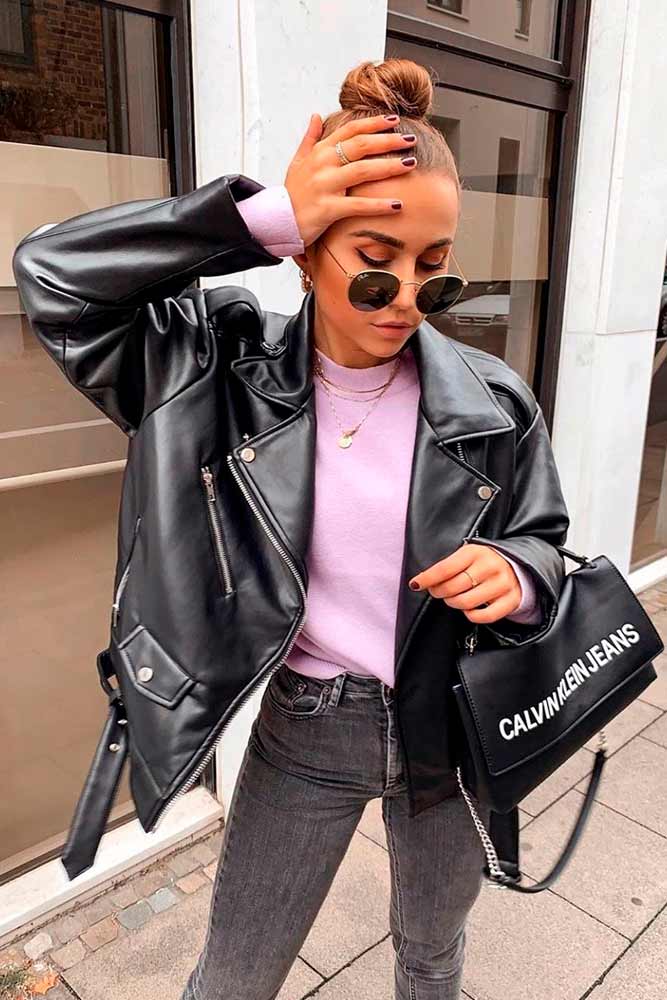 Casual does not mean simple or tasteless. We think that the pastel purple sweater combined with skinnies and topped with an oversized leather jacket will make you look stylish and cool. Besides, when it gets colder outside, you will remain warm and safe at the same time!
Casual Outfit With Classy Boyfriend Jeans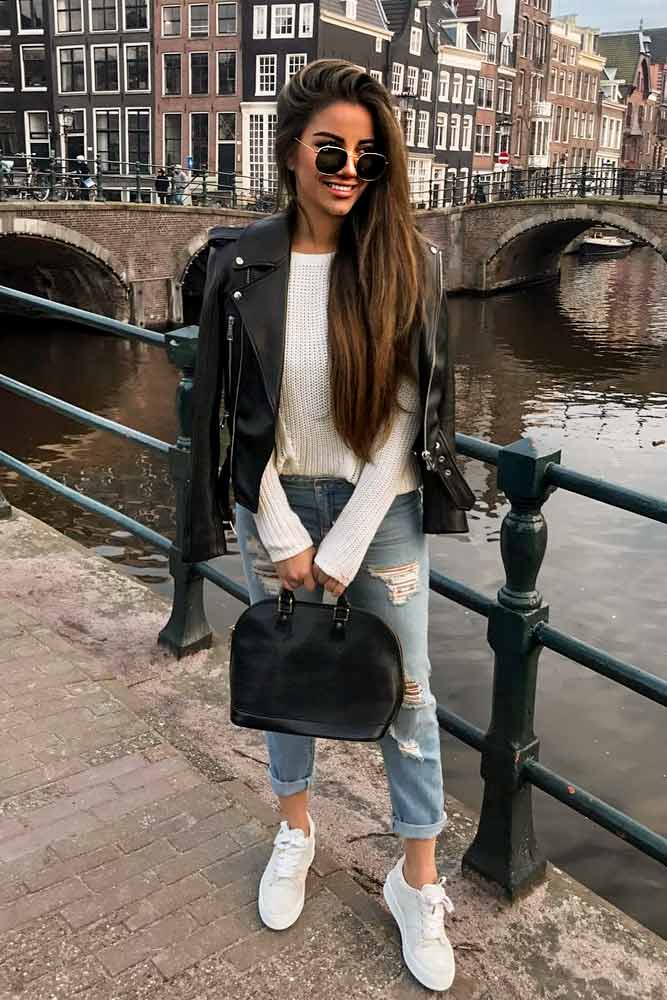 As you have understood, the duo of jeans and a leather jacket will never let you down. Pick a classy boyfriend pair and add some spice with the leather element. You won`t regret your choice even for a second that day. The bagginess of the jeans will create a unique flair.
Trendy Military Jeans For A Casual Style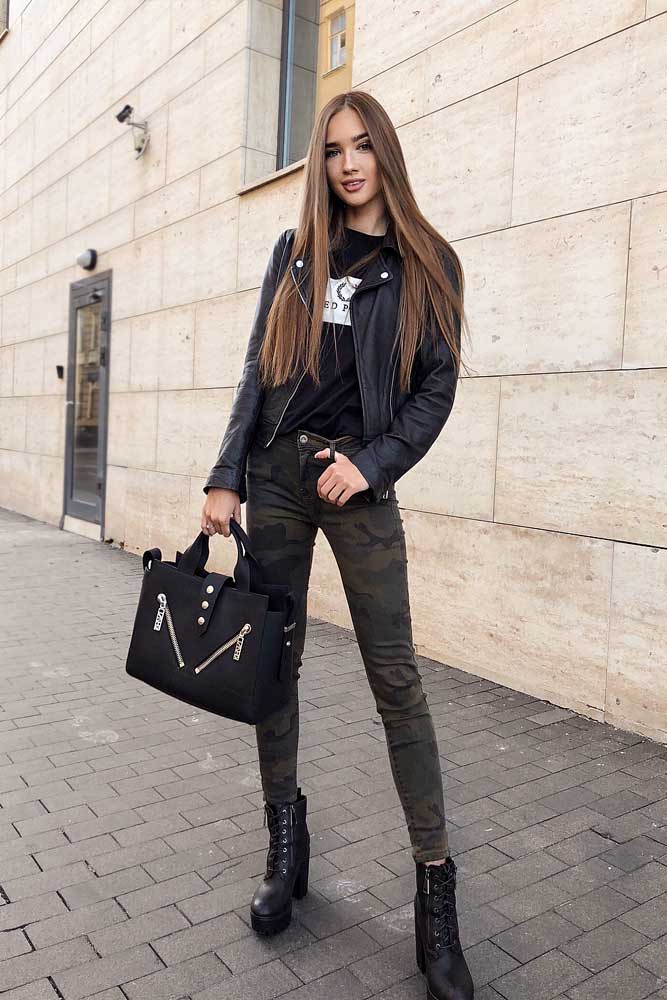 Have you noticed how a military print has made a comeback? This means that this season it should definitely appear in your wardrobe. Buy skinny jeans with a military print and wear them with a leather jacket. You will see what a good idea it is!
Ripped Jeans For Bold Women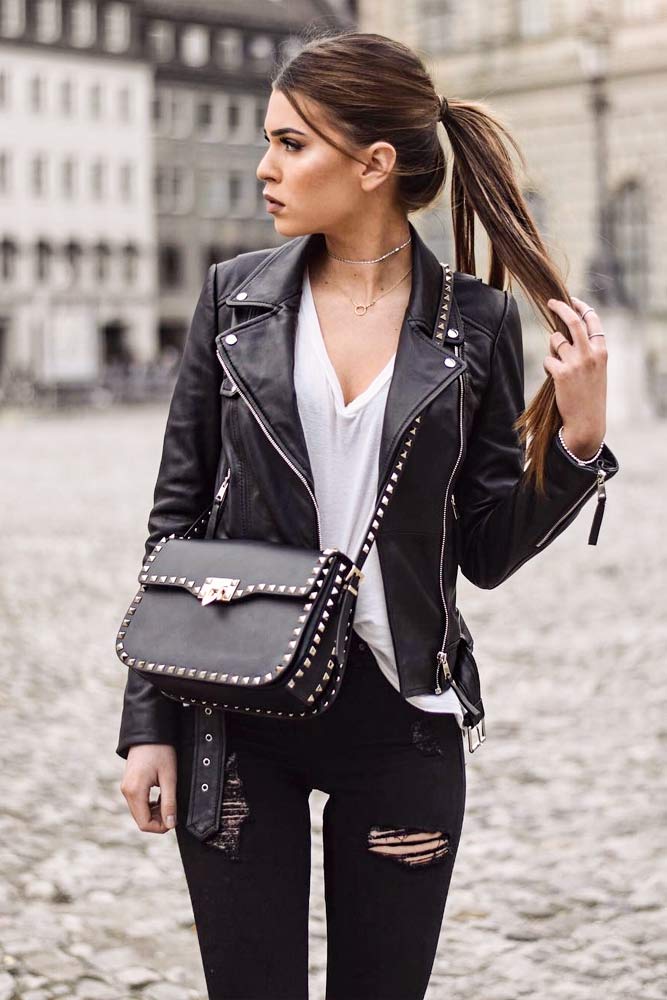 Ripped jeans with a leather jacket will make your look cool and sexy. Add feminine details like accessories and rock the outfit. Comfortable and super good-looking for every day. Isn`t it fab?
Colorful Leather Jacket Looks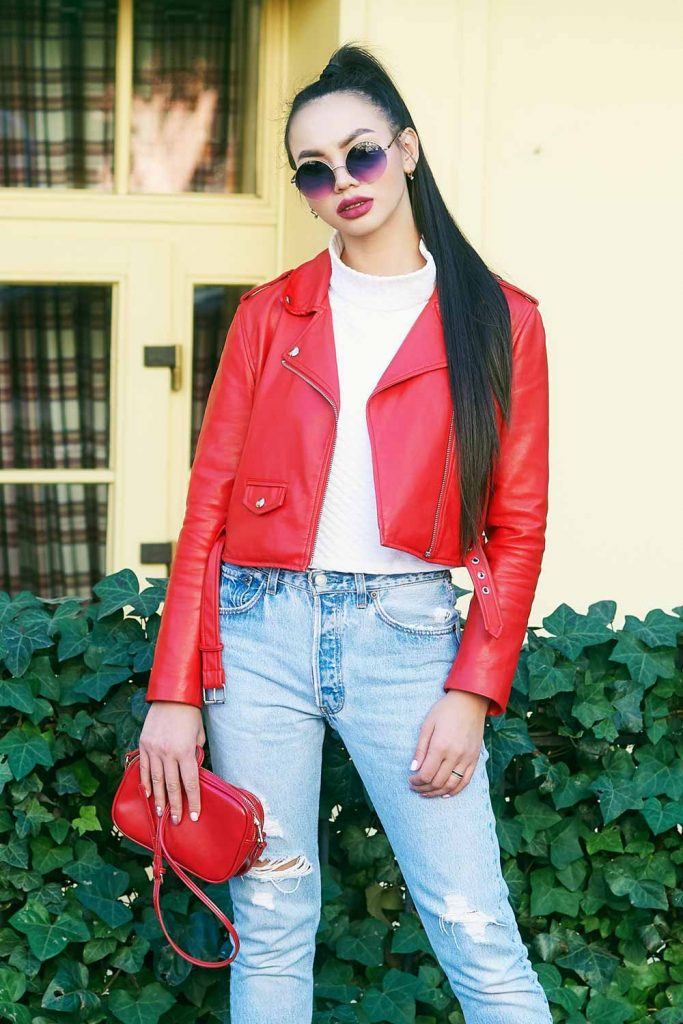 A Bright Yellow Leather Jacket For Good Mood Every Day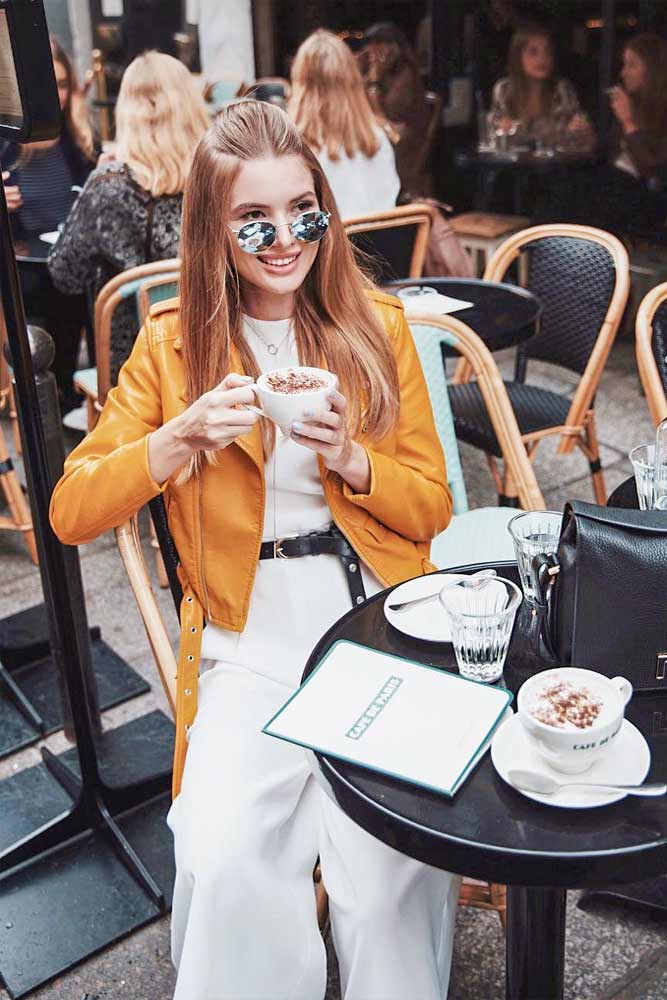 Colorful jackets can become a significant part of your wardrobe as they will give you the chance to make every basic outfit as bright as possible. What about a yellow leather jacket? It will not only look stylish with dresses, jeans, and skirts, it will also make every day much happier.
A Green Leather Jacket With A Sexy Leather Skirt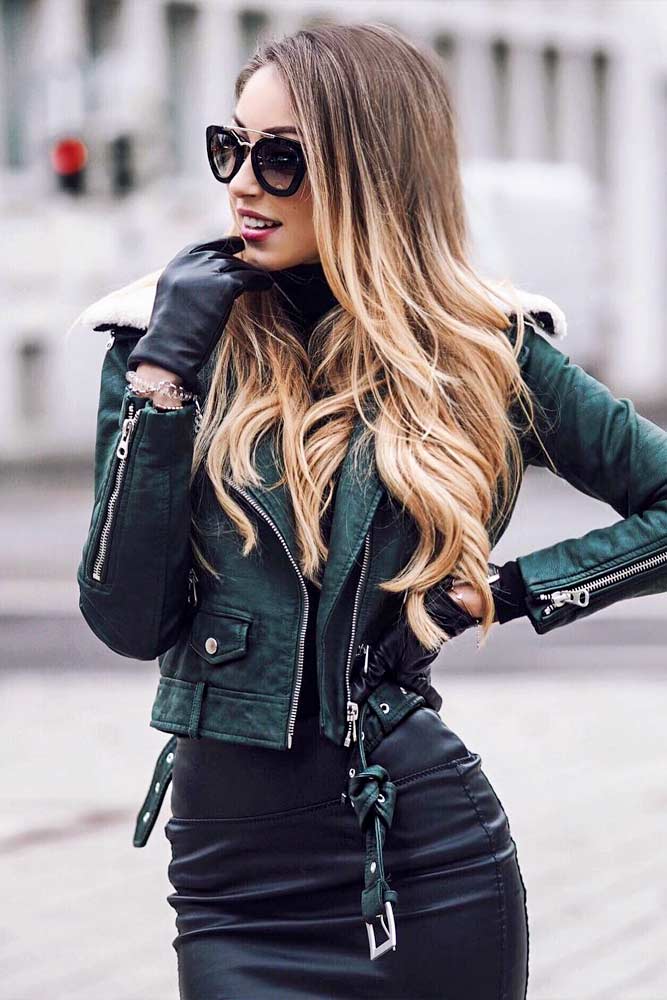 Wearing a leather jacket doesn`t mean you have to ignore this material elsewhere. Sexy but classy at the same time, it will bring attention to you for sure. Wear a green colored jacket and a leather skirt, and there won`t be anyone shining as bright as you on that day!
A Cute Pastel Color Leather Jacket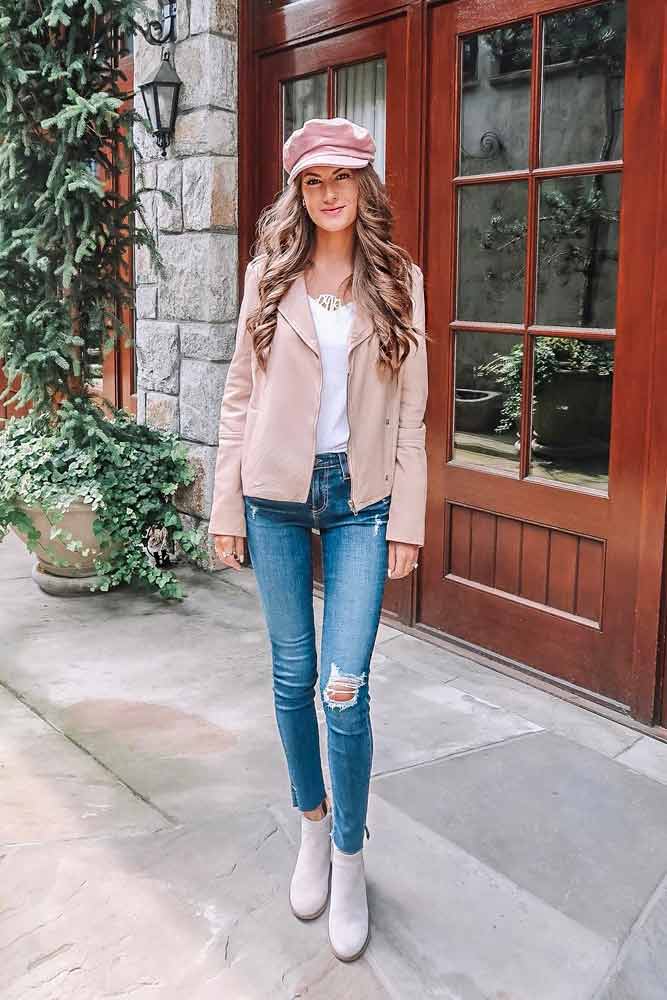 Pastel colors are popular nowadays, and we understand why. Classy and going well with every color. Choose a pastel color leather jacket and create as many looks with it as possible. You will look super cute in any outfit if this piece will be on you.
A leather jacket is a piece of wardrobe that every girl should have. It is not only comfortable, but it is super stylish, too. Create as many outfits, wearing it, with us.