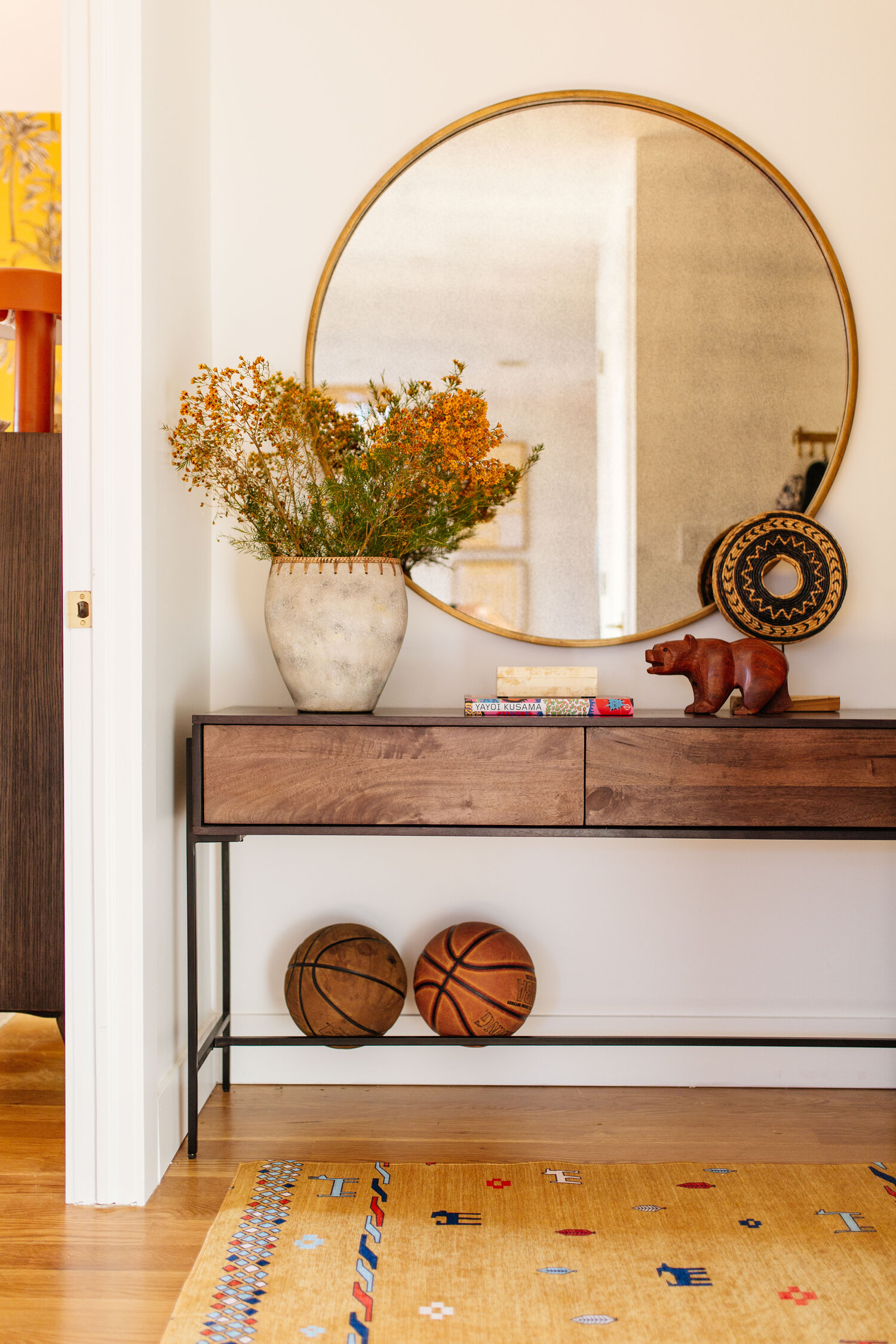 Sponsored by AllModern
Of everyone in our lives who deserves a makeover, I have to say that our longtime friends Sophia and Rana are pretty much at the top of the list. Considering the fact that they both work in education — she's an associate principal and Rana teaches science — the past several months have been especially stressful. Of course that's true for all of us, but our educators could sure use some extra love, and I was happy to give them just that by partnering up with AllModern to give their NYC home a fresh look that also made them look forward to the extra time they're spending inside.
What makes Sophia and Rana's story even sweeter is that education actually brought them together. They met 12 years ago working at the same public high school in the Bronx. Their condo has also been a major part of their love story. They've lived there for exactly 10 years and it was time to level up and update the space. They wanted to repaint the walls and redo the floors. I also had them update the baseboards and doors while we're at it. We're not just decorating the space, we did some light renovation work to give the space some new life! Because they're both working from home part time now, it's more important than ever for them to feel like it's a space that's inspiring and inviting — whether they're on duty or off.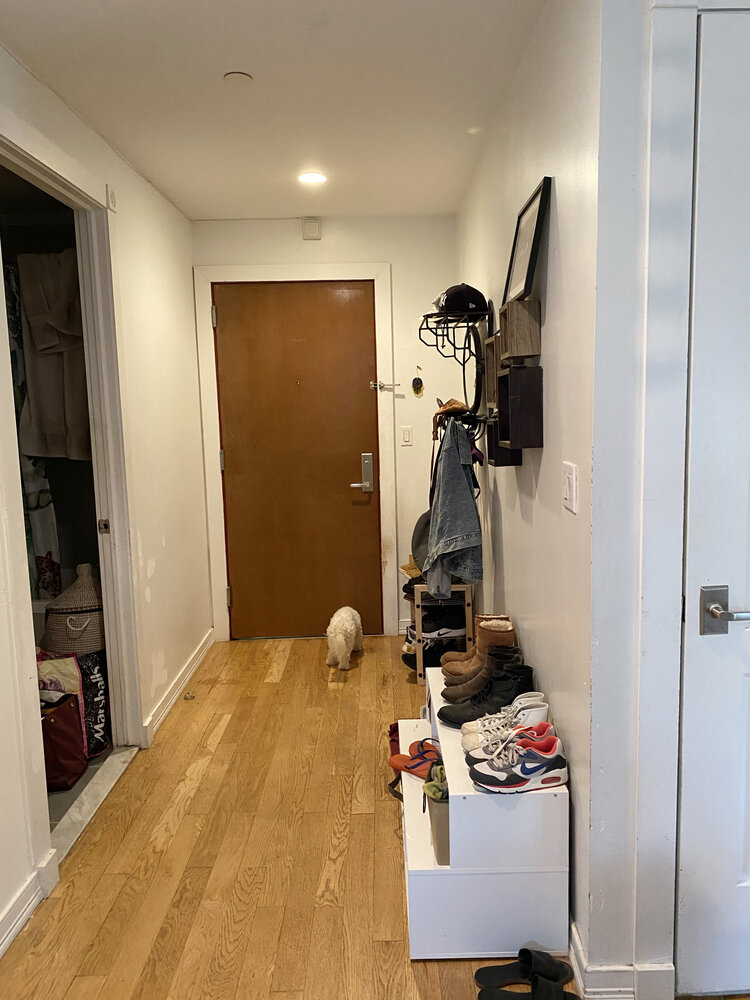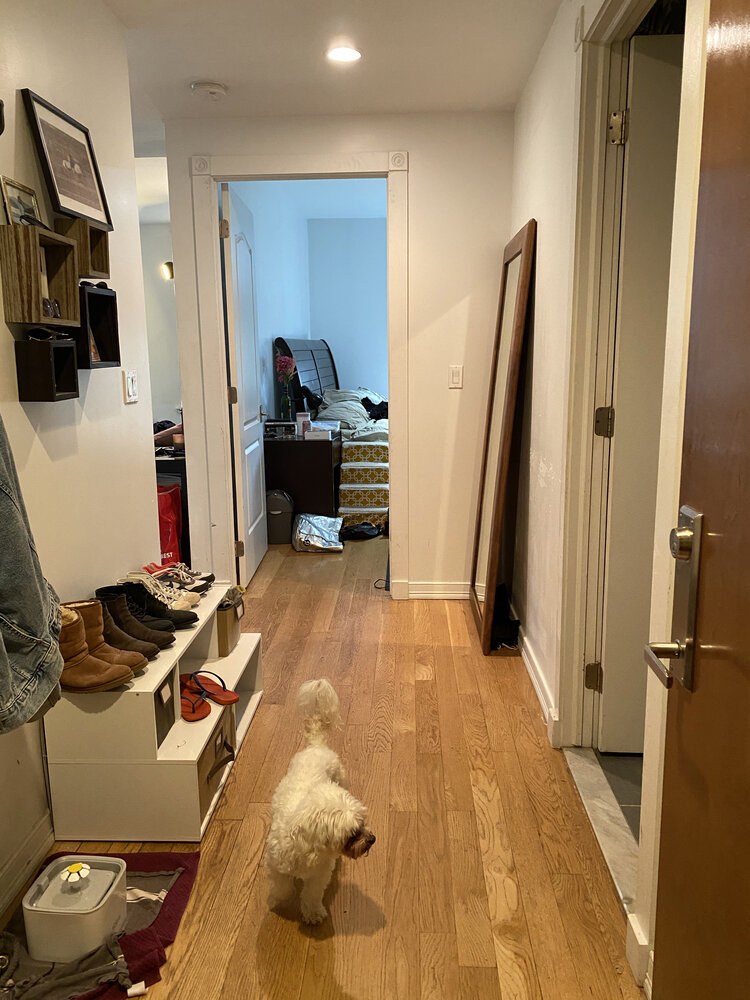 To kickstart the makeover I started with the space you immediately notice when you walk in: the entryway. Here are some before photos. This is a part of the home I think often gets neglected, but because it's the first thing you see, I believe it should feel welcoming and functional at the same time. Like most entryways in NYC, Sophia and Rana's is long and narrow, and theirs can quickly fill up with clutter, especially since they love stuff. So we knew storage had to be a major component of this transformation.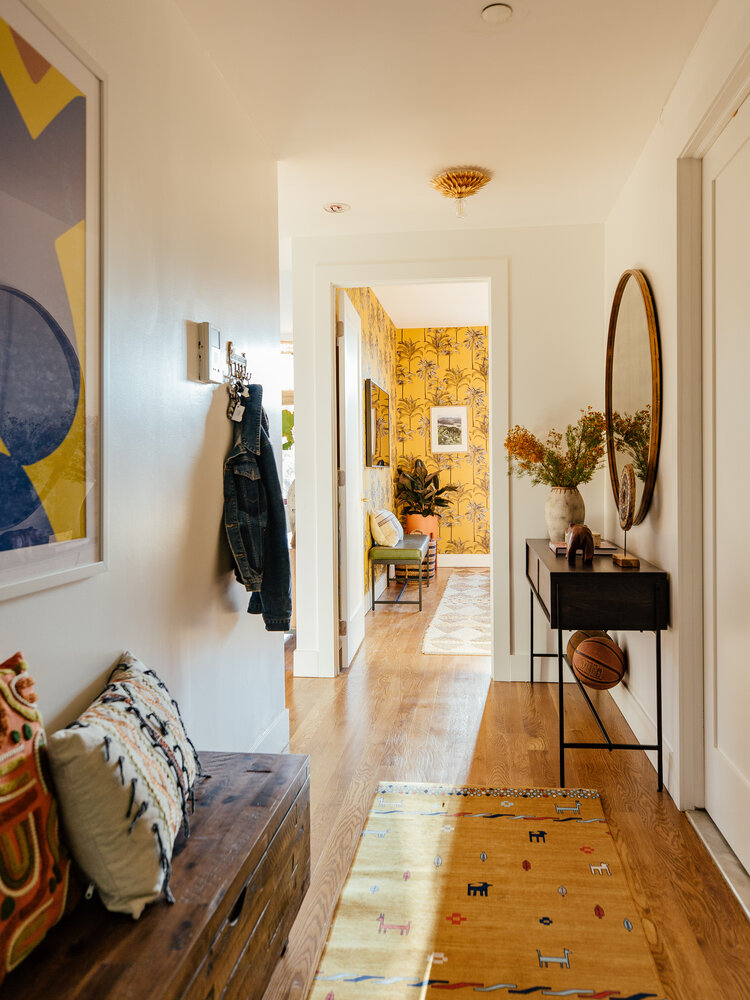 It's pretty incredible that AllModern has everything you need to do a complete overhaul. A key piece here was the acacia wood storage bench we picked out. To make it feel a little cozier, I tossed on a couple of throw pillows. Even though the space was a bit narrow, I decided to add a console table. This sleek one has drawers for storage (perfect for keys, mail, and odds and ends that would normally clutter up the space) and fit perfectly along the wall.
The space is a bit dark so we hung up a large round mirror (similar option) to bounce some light around. Plus some accent pieces like this large terracotta vase for flowers. This is such a statement vase. I love the texture and the rattan detail. Also add this tribal wood sculpture. Sophia and Rana love to travel so I definitely wanted to throw in some worldly accents as much as possible. The bear figurine they got during a trip to California for the first time last year. Rana also loves basketball and plays every week, so we stored a couple of balls under the console to add some personality. That was a total happy accident by the way and we just loved it. It was such a playful way to showcase it. You want your home to reflect what you love.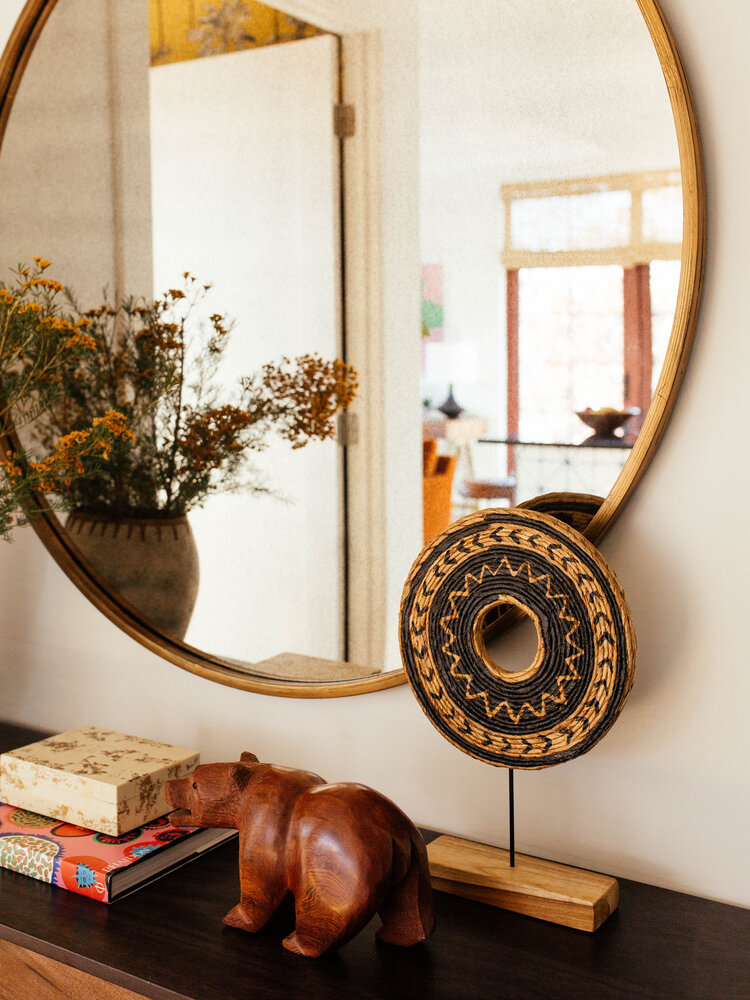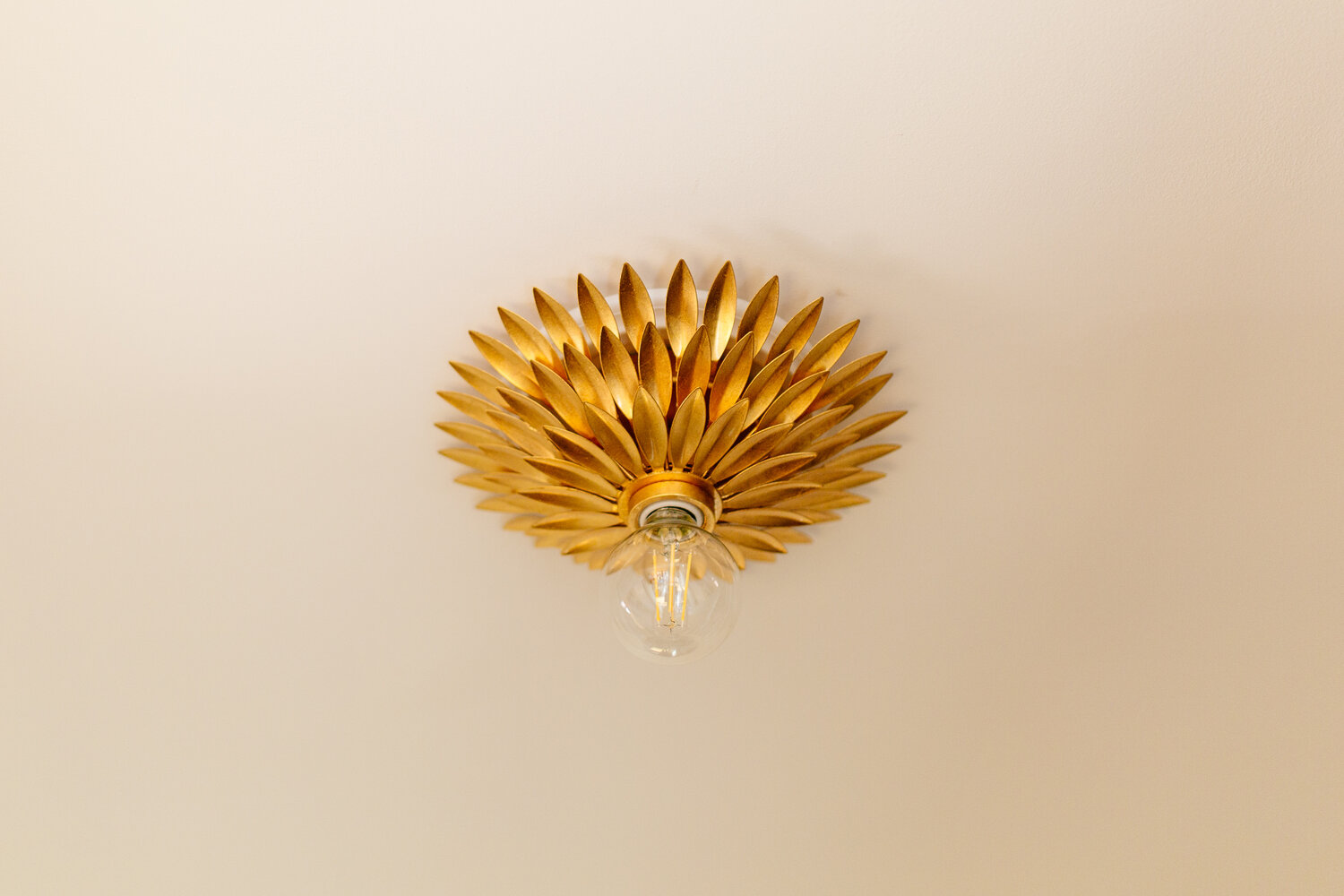 As for the color palette, we kept things mostly neutral in here but with some hints of warm gold tones in the mirror as well as this gold leaf lighting fixture, which was small enough for the space but still added such a strong statement! And they concealed the recessed lighting perfectly! We also layered a small golden yellow rug for a pop of color. The warm hues are also carried through the space with the accent pillows. To balance things out, I added some cool tones with thisframed art and a couple of their own photos they took from their travels. Oh, and the green door! Sophia and Rana loved my kitchen color (BEHR Royal Orchard) so much, I used the same color to repaint their front door.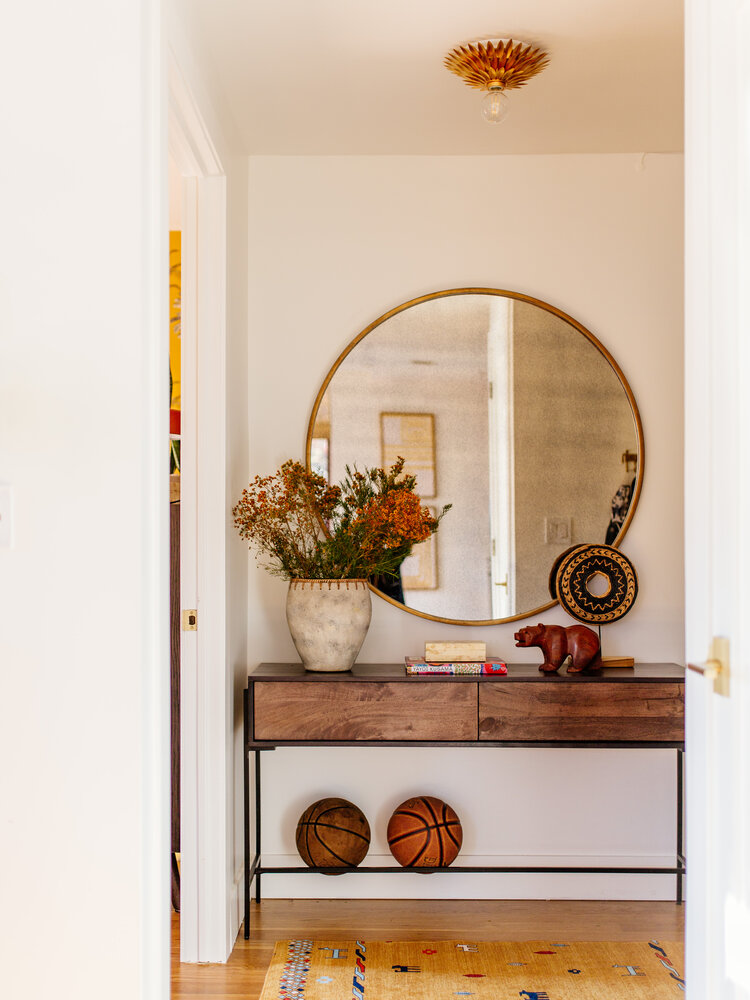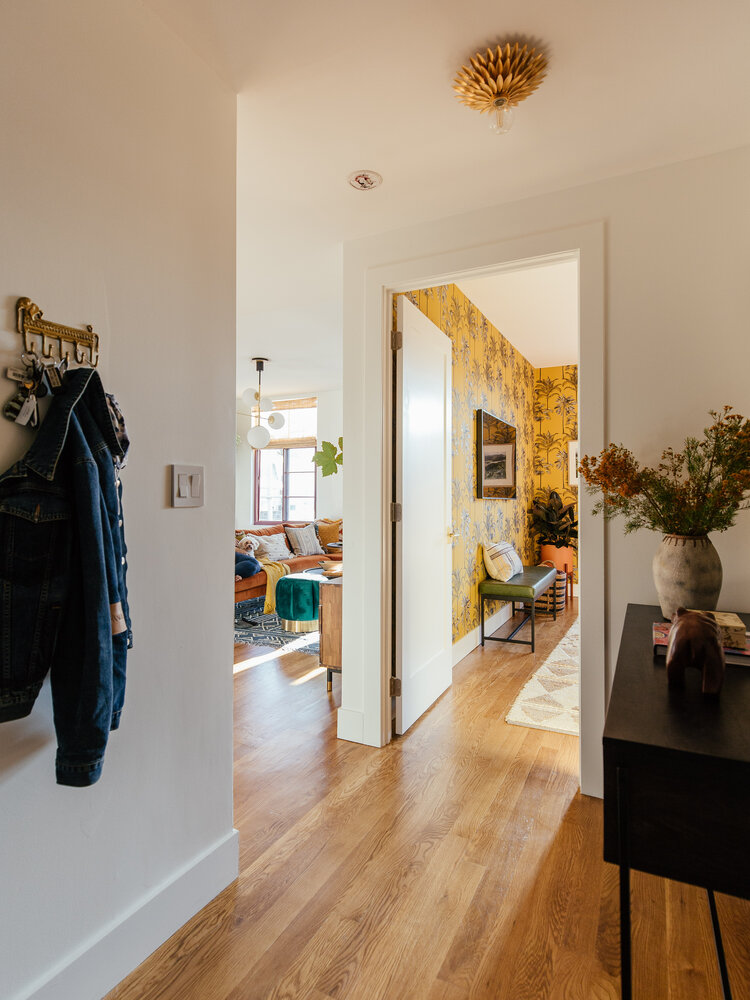 Now it's like a whole new condo, all thanks to AllModern (no seriously, we got rid of all their old stuff plus hand-me-downs and shopped everything from top to bottom from the site!) — but that's just the beginning. Next up: their living room and bedroom. Here's a sneak peek of the other spaces so stay tuned!
Post from: oldbrandnew.com