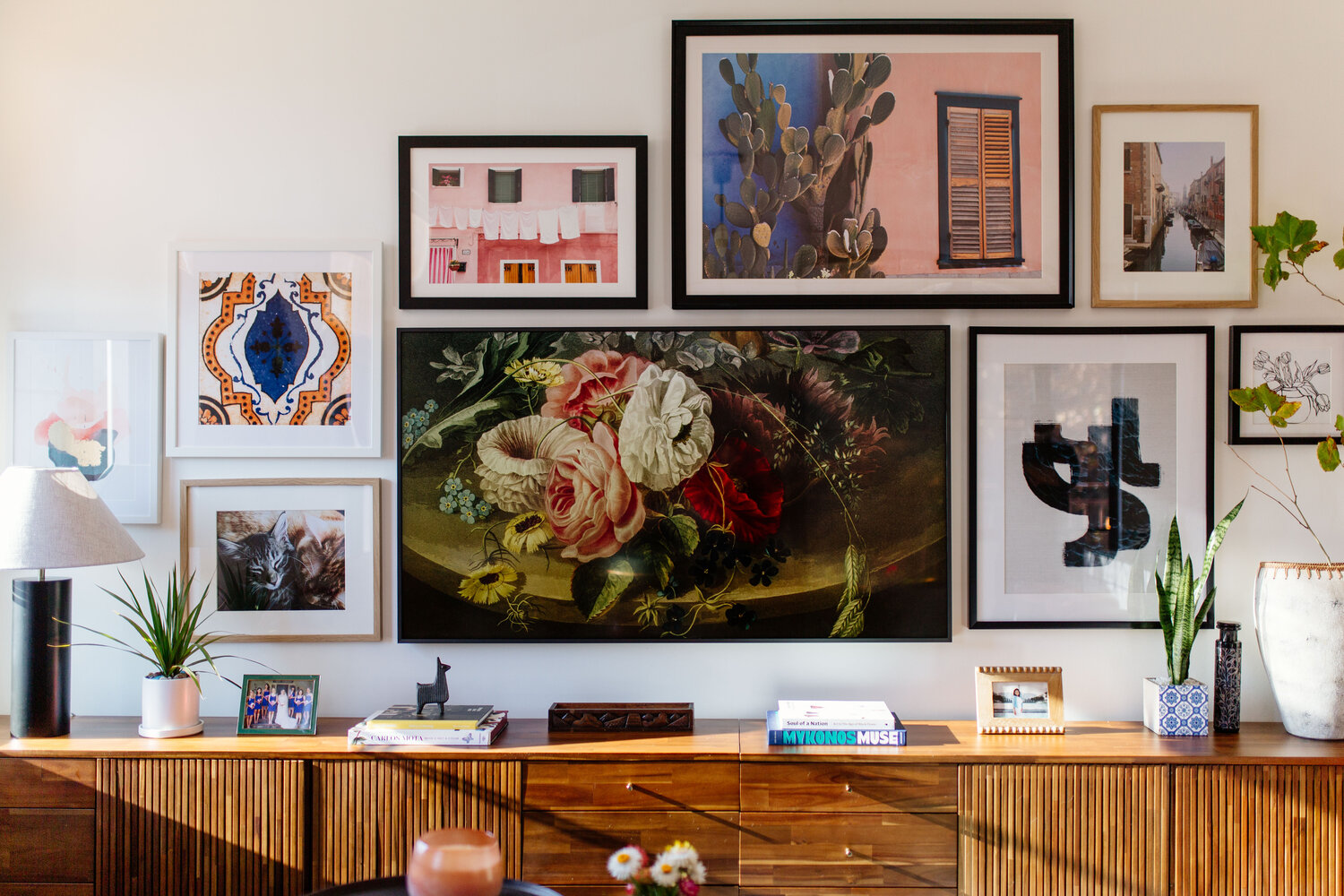 Sponsored by AllModern
The Sophia and Rana makeover continues! With the help of AllModern, I revamped their NYC home (about 600 sq. ft.) to give them a live and work space in which they can feel productive, comfortable, and even a little luxurious. As two hard working educators during a pandemic, it seemed like the perfect time to give their space the facelift they've been wanting but haven't been able to prioritize for years. In fact, they just celebrated their 10th year living in the condo which also made this transformation feel especially well deserved.
After tackling their entryway, we moved into the living room. As I mentioned, Sophia and Rana both work in education (she's an associate principal and he's a science teacher) and they're both working from home part time because of the pandemic. Because of that, my main goal in this space was to offer them distinct areas for both work and chill time (plus future entertaining).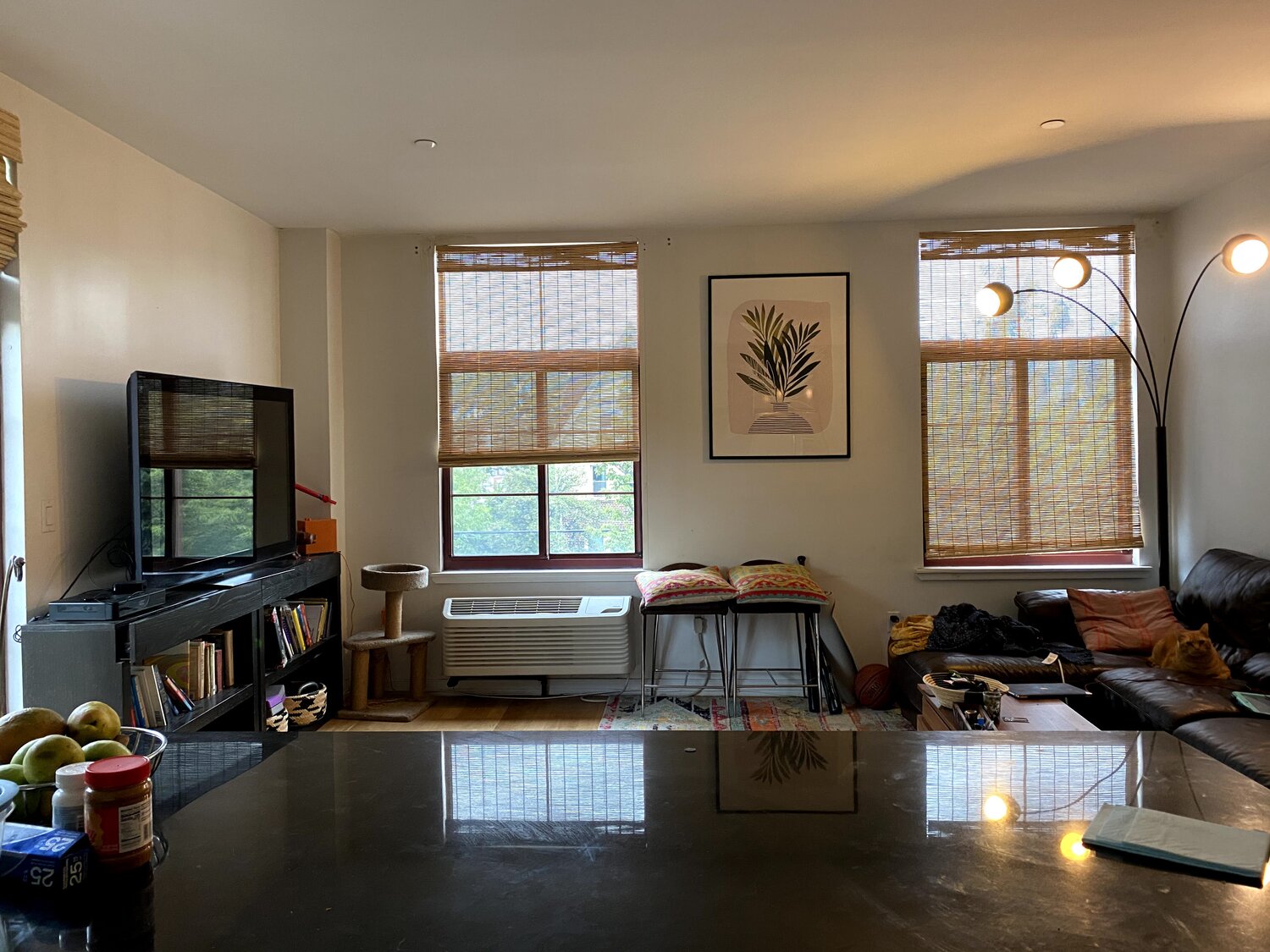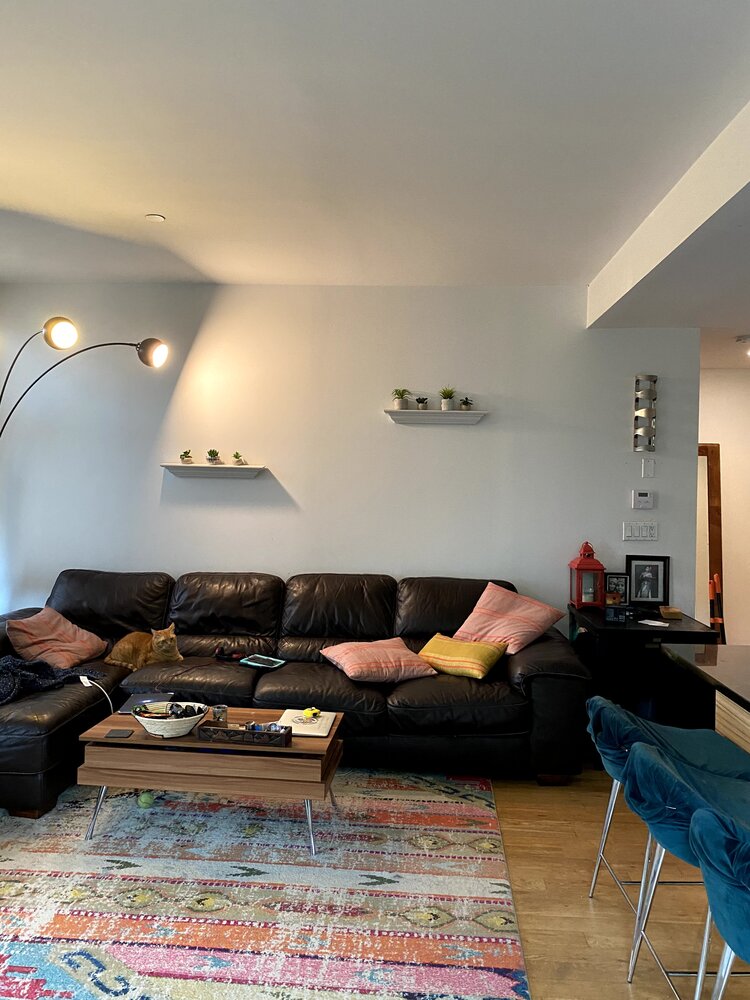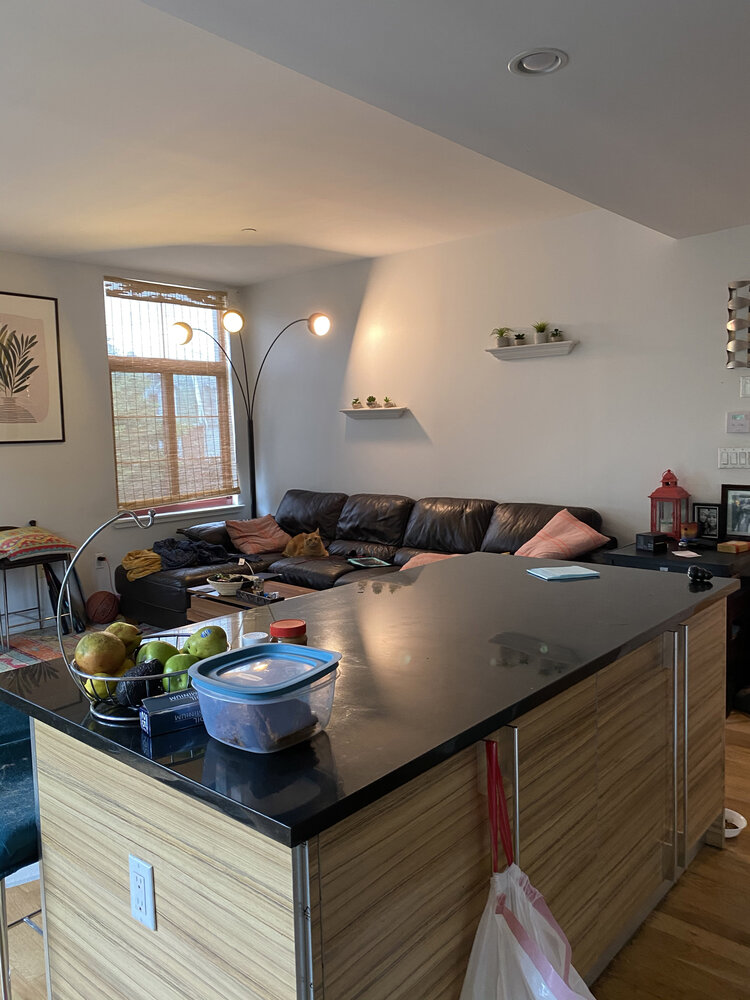 First, we thought about how to best use this space since they have an open floor plan with the living room and kitchen together. They have a huge island which is where they eat mostly. They wanted to squeeze a desk into here so we decided to divide the living room into two spaces by placing the sofa in the middle to create a divider. Rana was apprehensive about this layout but after moving things around and testing it out for a few days, he was like, "Why didn't we do this sooner?" Well, it's never too late!
After figuring out the layout, next is the fun part! Sophia loves the desert so she wanted something warm and this rust colored velvet sectionalis what I chose first from AllModern. A comfy and stylish sofa is the centerpiece of a living room, because, let's face it, that's where most people spend the majority of their time! To make it even more inviting, I added a mustard colored throw and some throw pillows. And then I layered a cooler tone blue rug under it.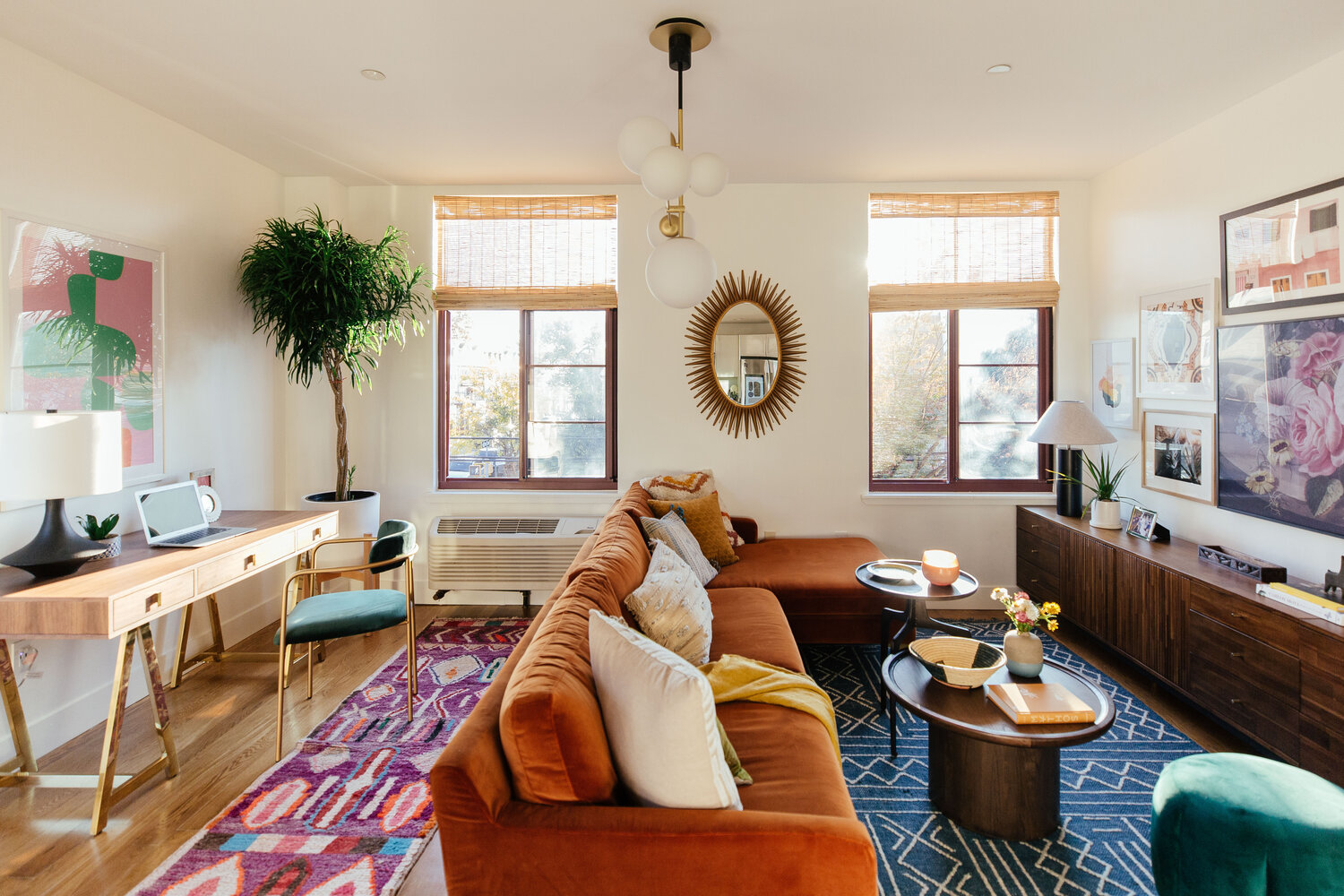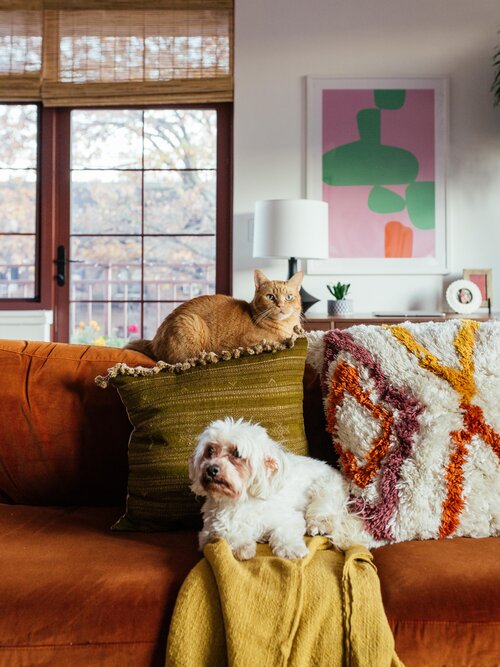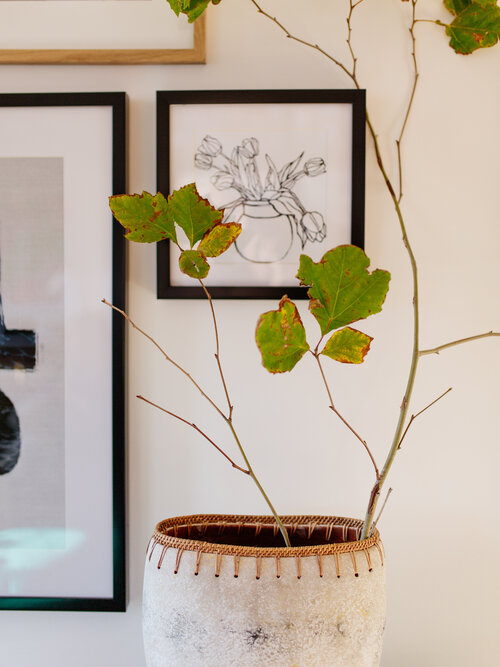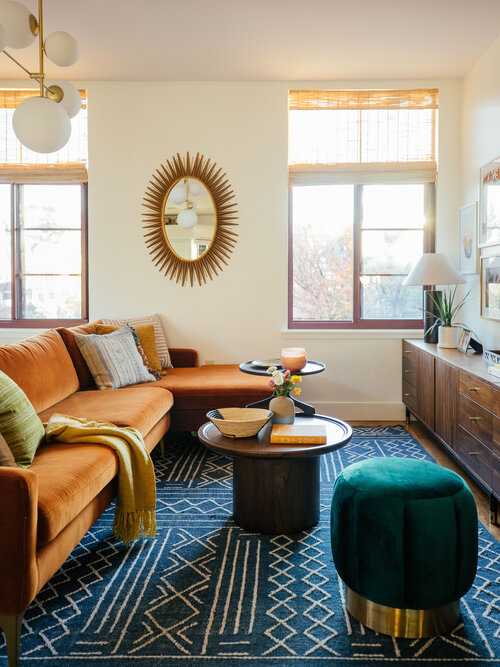 Speaking of things you do in the living room, we all know that entertainment (i.e. the TV) is essential, but my goal was to make their 65″ Frame TV a little less of a focal point, even though they're huge TV people. I decided to create a gallery wall around it, as a creative way to disguise it a bit, while adding a ton of visual interest to the room.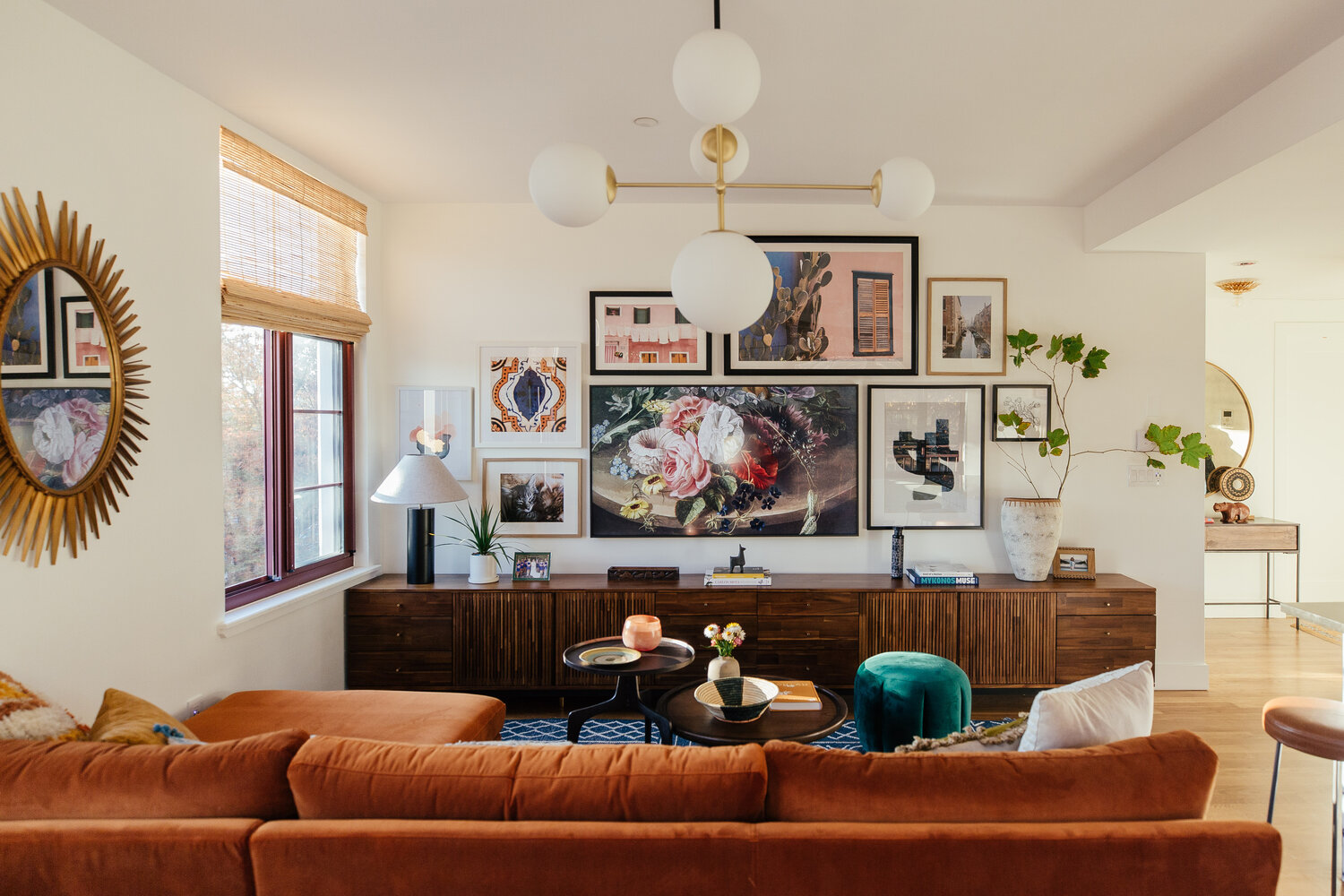 Gallery walls are one of my favorite ways to make a major statement in any room, and I've learned a few tricks of the trade to do it. Mixing up the styles of artwork is key, but to keep a little consistency you can choose pieces with similar colors or subjects. Of course this cactus photo was a must to keep Sophia's desert vibes going, but I also threw a nod to Morocco with this tile print and of course a little abstract art, like this graphic print that reminds them of the ocean. We also printed some of their photos they took of their kitties and in Italy. It's nice to have a variety of scale, too, to give the wall a bit more of an eclectic and casual look. The trick is choosing larger artworks rather than a bunch of smaller pieces.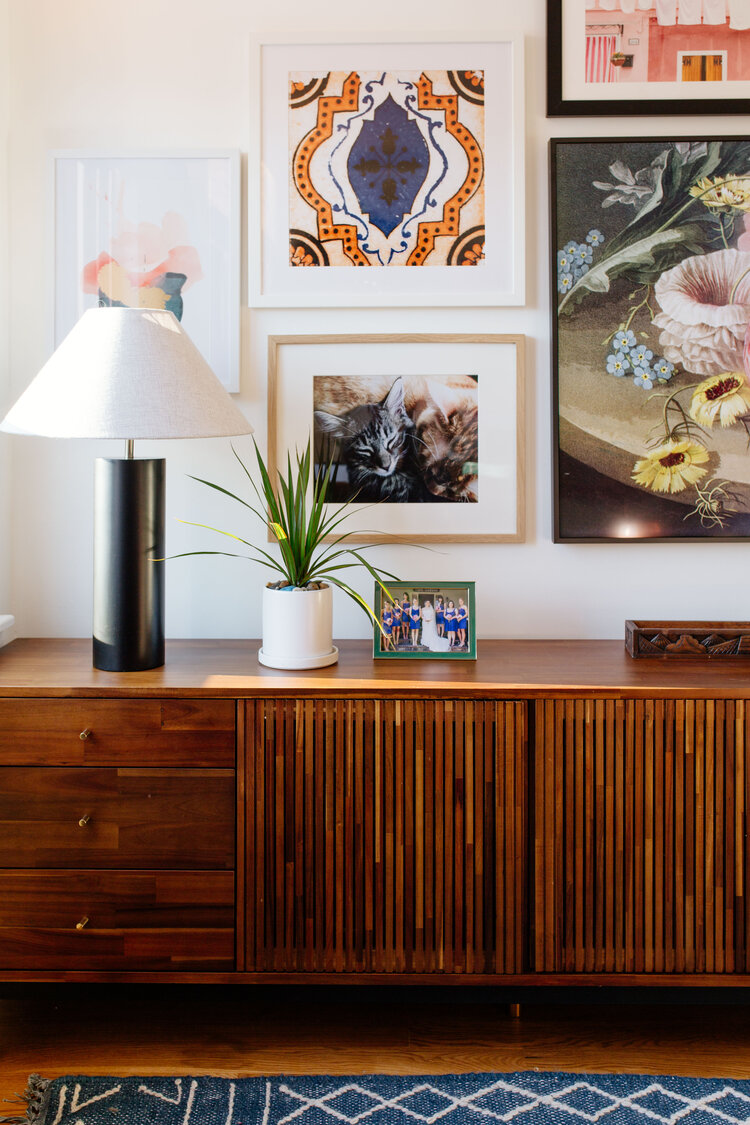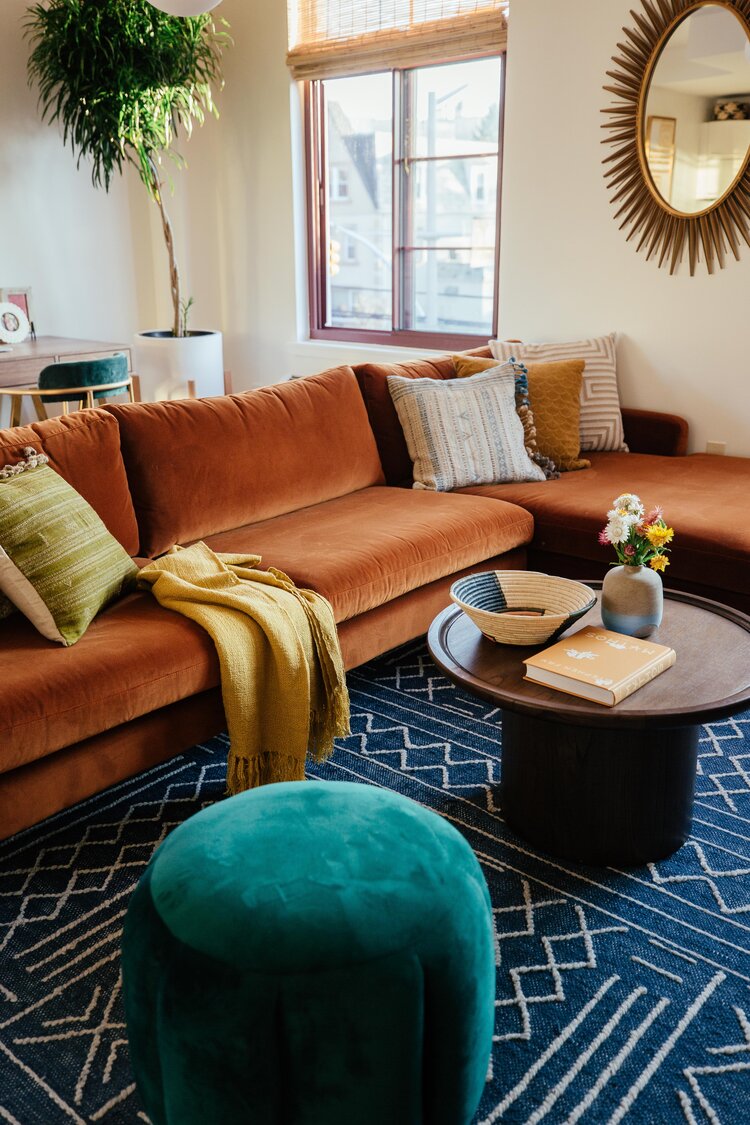 Beneath the TV/gallery wall was the perfect location for this Mid-century style TV stand. So prior to all of this decorating, I had Sophia and Rana purge a ton of stuff because they have a lot and storage is something they lack in their home. I decided to put two TV stands side by side which creates a more dramatic and custom look while adding more storage. I feel like most TV stands are way too small anyway. Then I decorated with a large stone vase (plus a few smaller vases), a sleek table tamp, some books and personal photos, and I couldn't resist adding this littlellama figurine!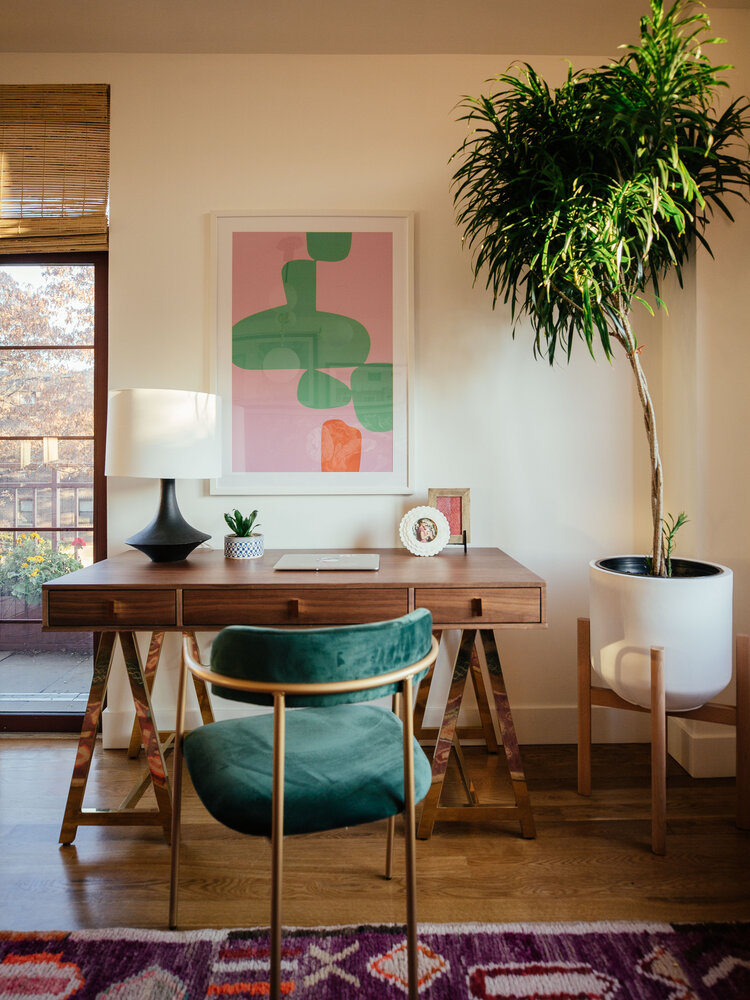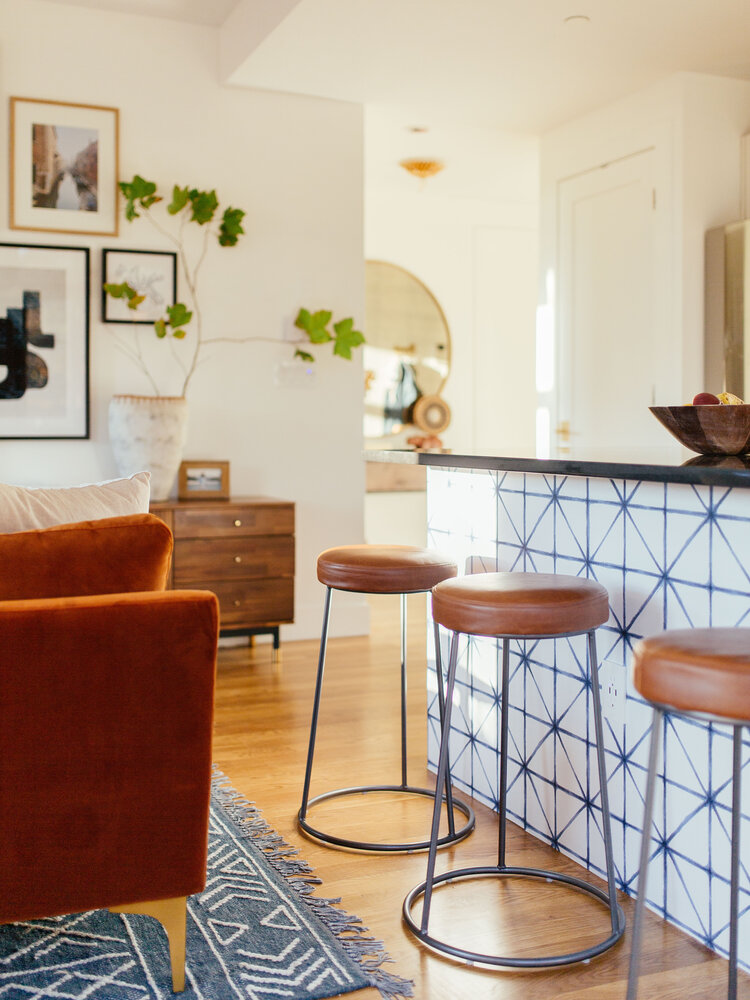 As for the office side of the room, we chose this walnut desk. I especially loved the gold legs, which tied into other gold elements, like in the desk chair, thesunburst mirror, and modern light fixture. To make it feel like its own special space, I added in a tall plant in a clay planter, a colorful runner (I used a large blue geometric print rug in the TV-watching area) and of course a bright graphic print above the desk to balance it all out.
Because it's an open floor plan, it was also important for us to incorporate the kitchen counter. To give it a fresh look, I wrapped it with geometric removable wallpaper! I also picked out some round leather stools. They're smaller so it fits the space better. Their old ones were way too bulky.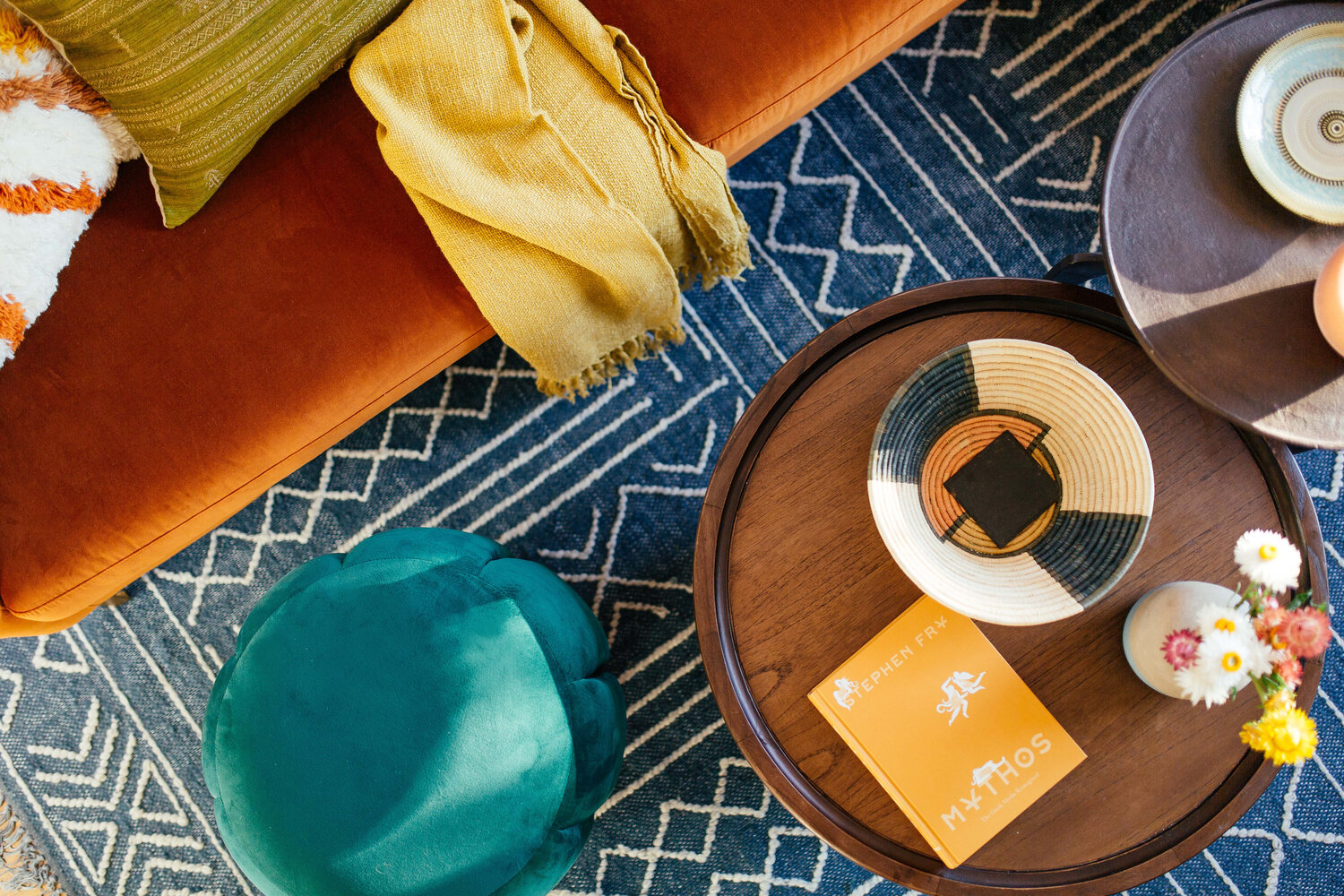 The overall transformation was huge! Sophia and Rana basically got three rooms in one, and I hope they'll find working from home — and relaxing after work — a lot more enjoyable. And it seems like their fur babies are already loving the changes. With that space taken care of, last on the list is the bedroom. Stay tuned for the final reveal!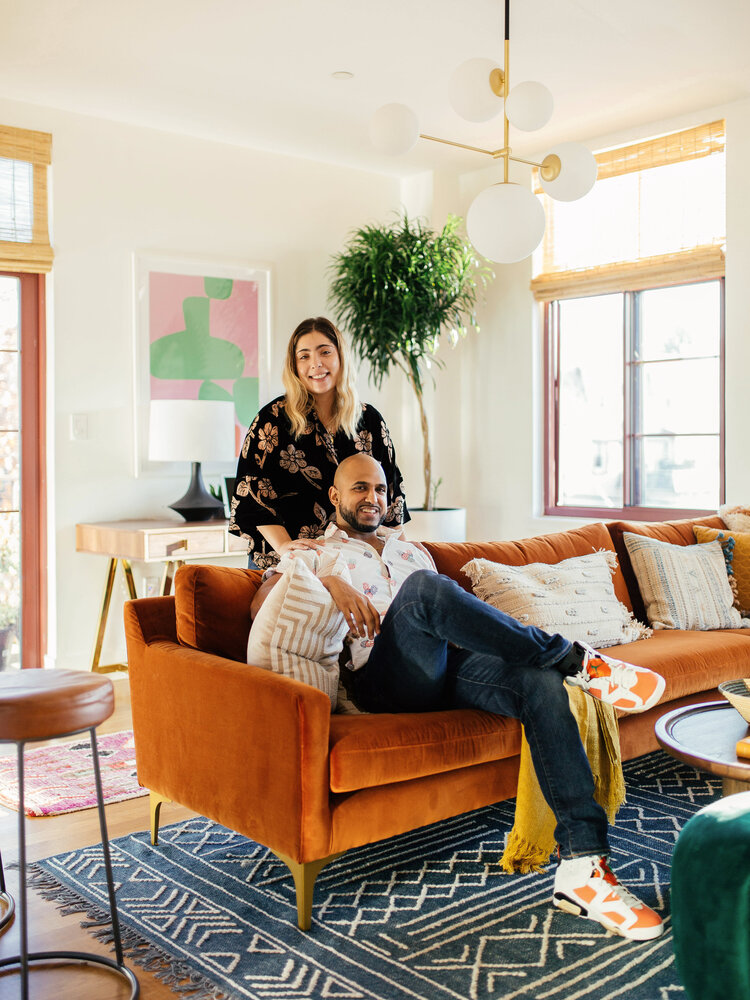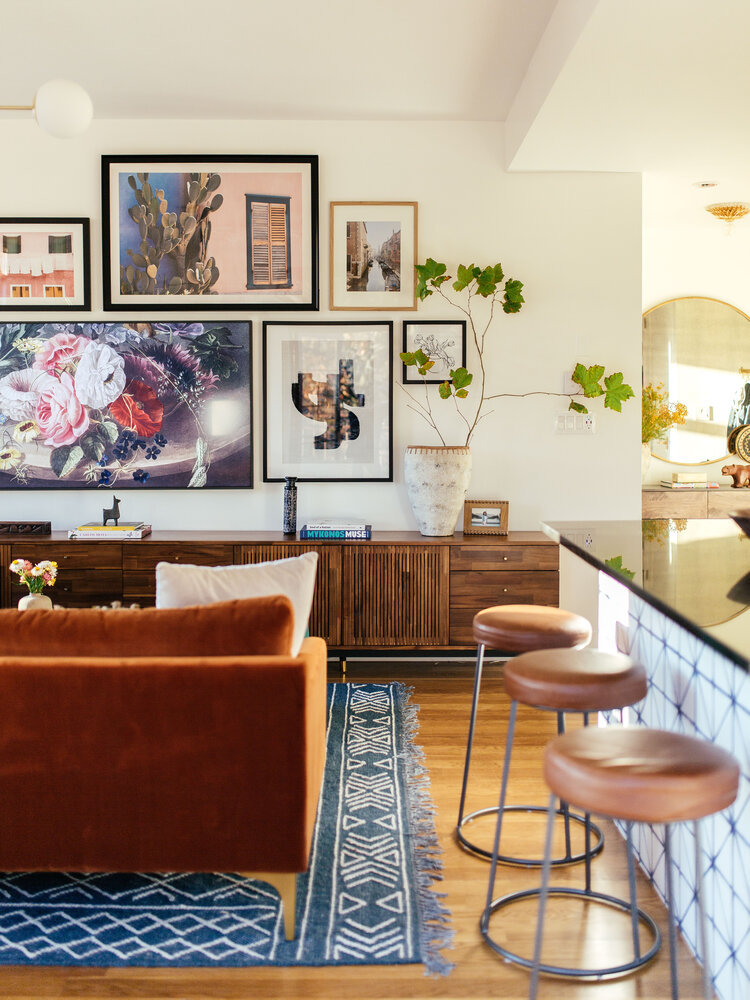 And here's the lovely couple in their Dabified home!
Post from: Oldbrandnew.com