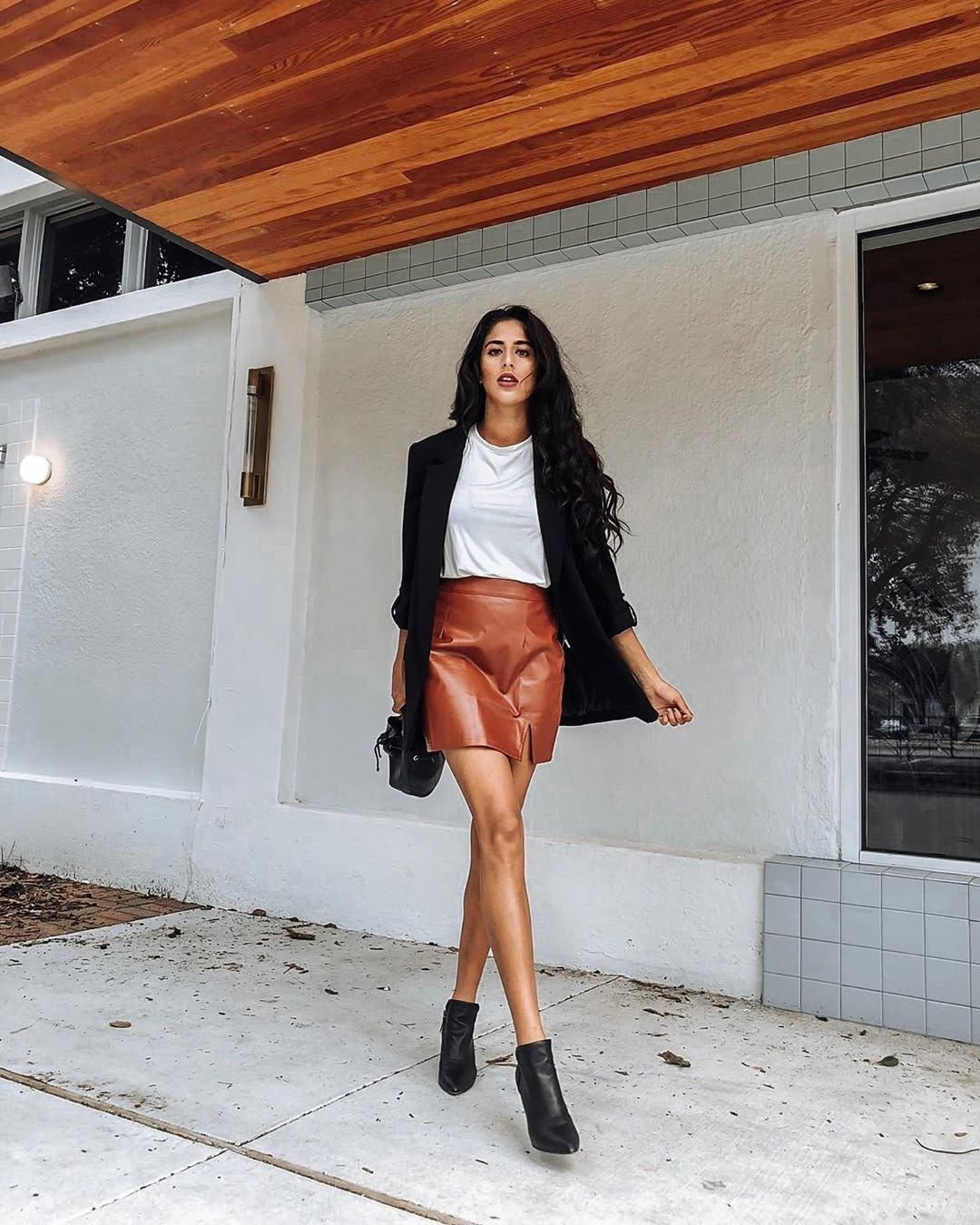 It's the most wonderful time of the year: leather skirt season! The versatile fall and winter wardrobe staple always looks luxe–and can be styled so many different ways, for virtually any occasion. Whether you're rocking a chunky sweater or sleek bodysuit, sneakers, heels, or ankle boots, leather skirts offer major versatility.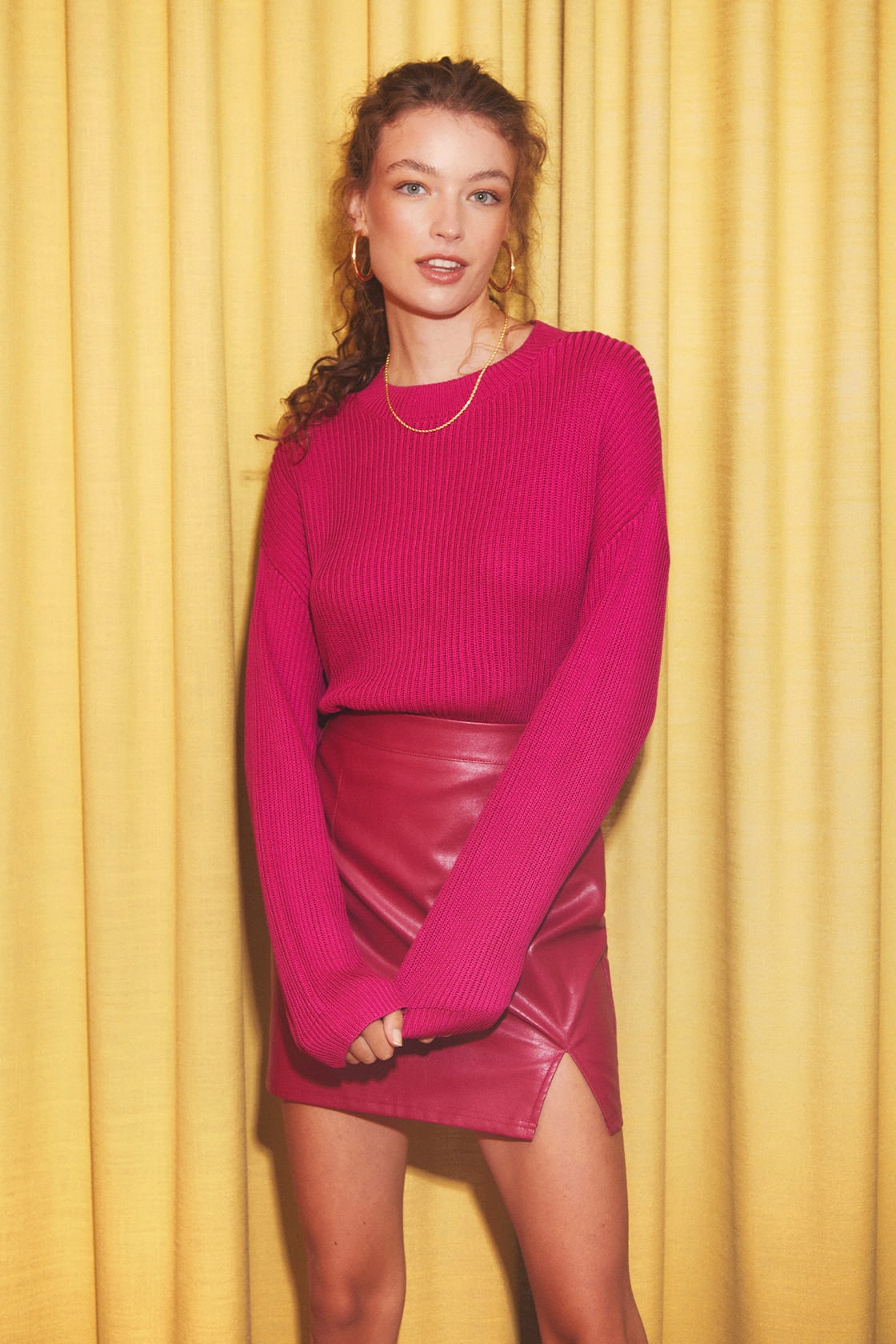 And these skirts have come a long way since their classic black mini days. With the myriad of styles and colors at your disposal, putting together the perfect leather skirt outfit to fit your vibe is easier than ever–and we've got some seriously chic ideas.
For help figuring out what to wear with a leather skirt this season, scroll on. We've put together vegan leather skirt outfits, ranging from glam to girly to edgy, that prove this bottom is a fall (and winter) must-have, no matter your style.
Autumn Colors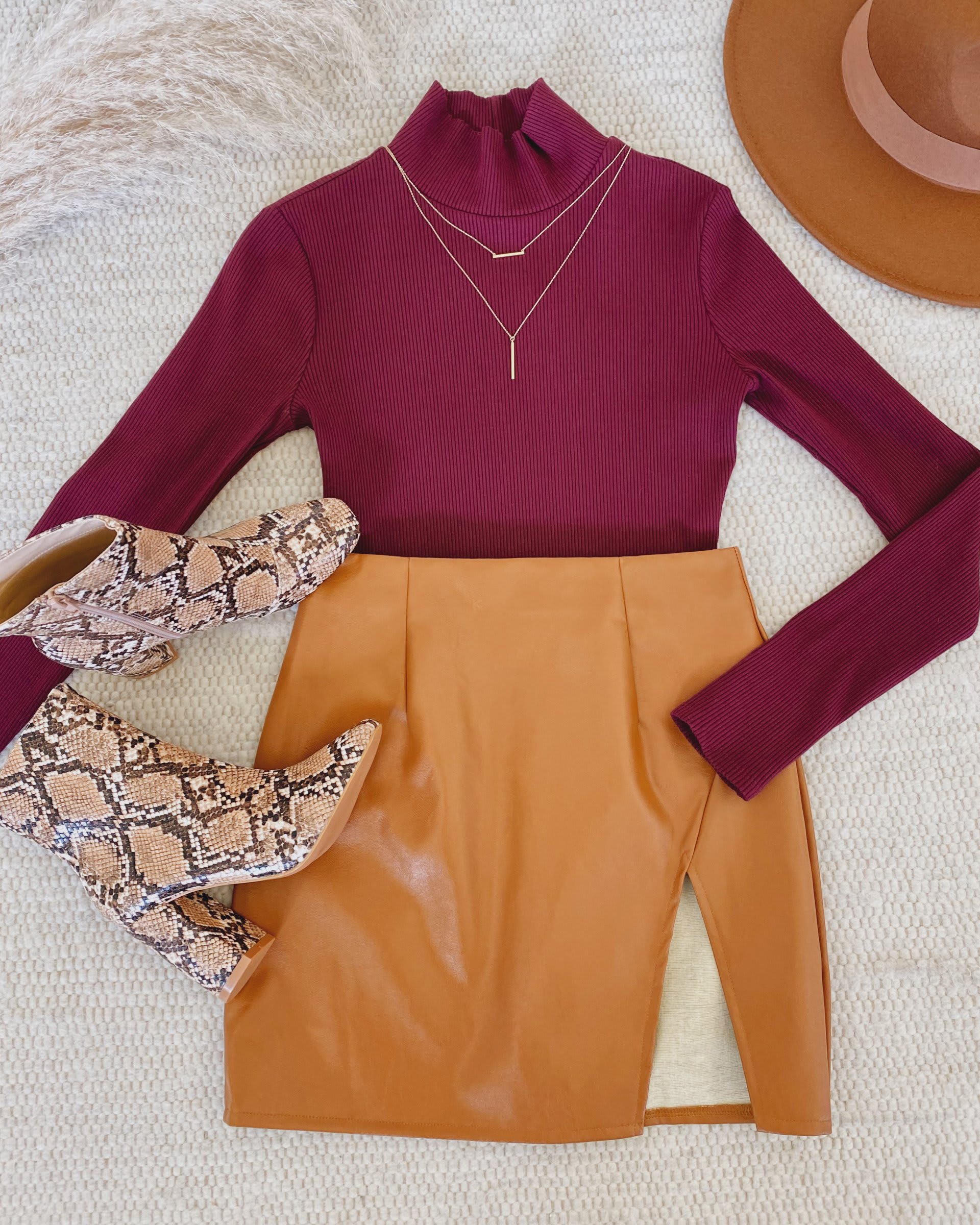 A cute, classic Fall ensemble, this look will help you to embrace the changing of the seasons in style. Combine your leather by pairing this adorable vegan leather skirt with a pair of faux snake ankle booties and a suede wide-brimmed hat. 
90s Barbie in Leather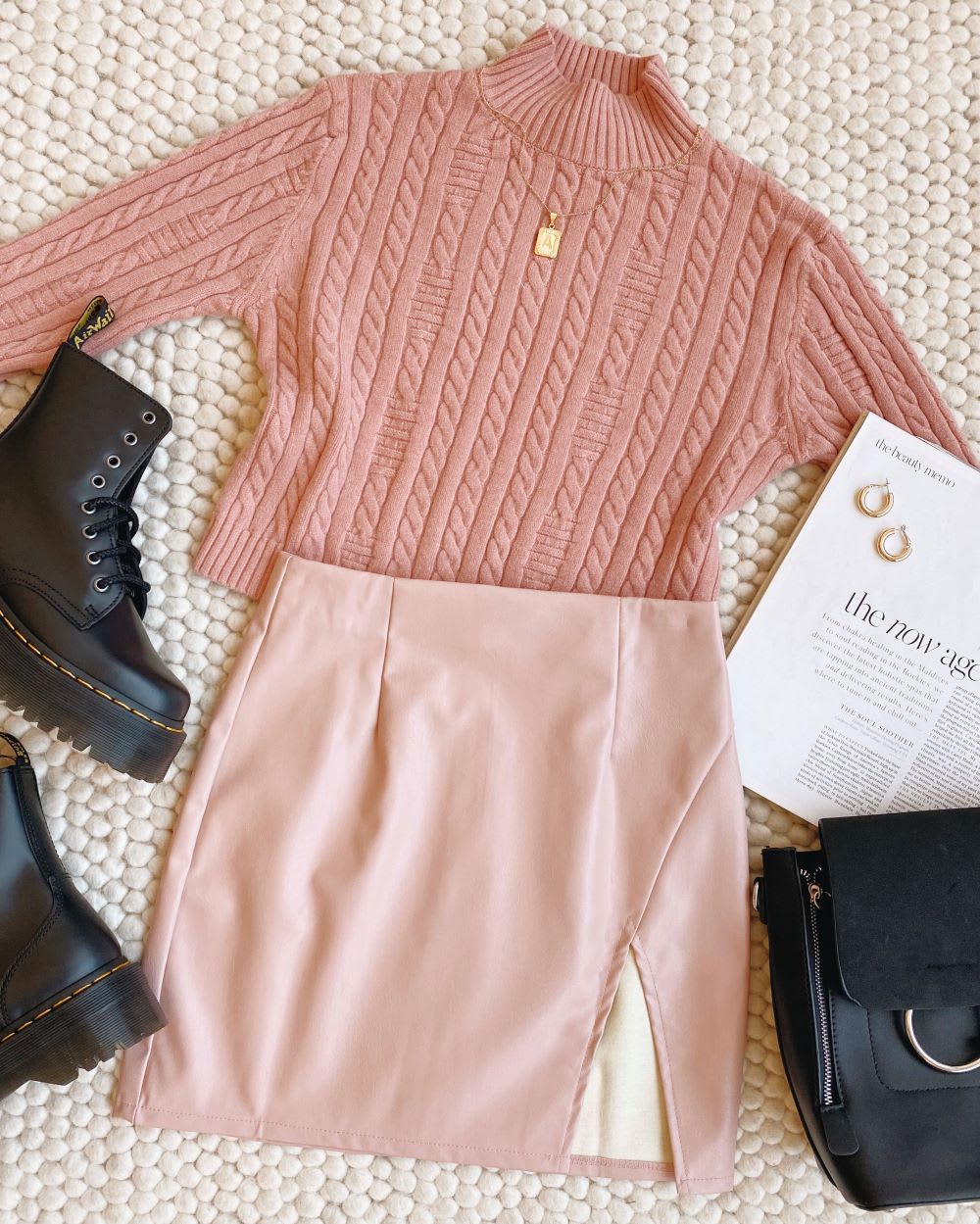 Live your pink, Barbiecore fantasy combined with the hottest accessories from the 90s grunge era and you've got a super aesthetic leather skirt look! Sassy, cute, and perfectly coordinated, this fit is worthy of a fun day out.
Elevated Earth Tones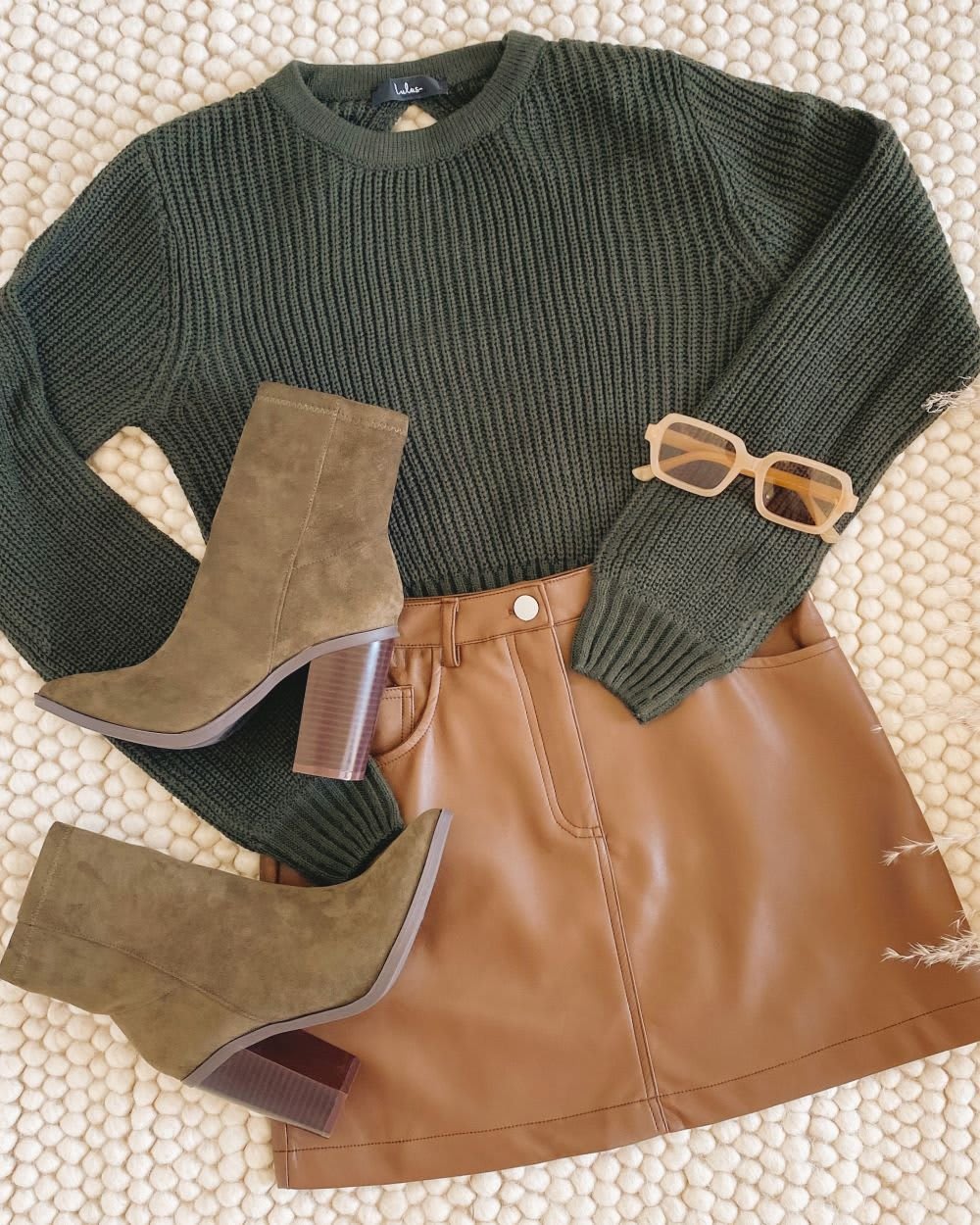 Cozy up with a good book in this outfit, or wear it when you're feeling extra studious! In cognac and mossy green tones, this fit borders on boho chic, and could easily be worn if you're longing for those cottagecore vibes. 
Preppy Polish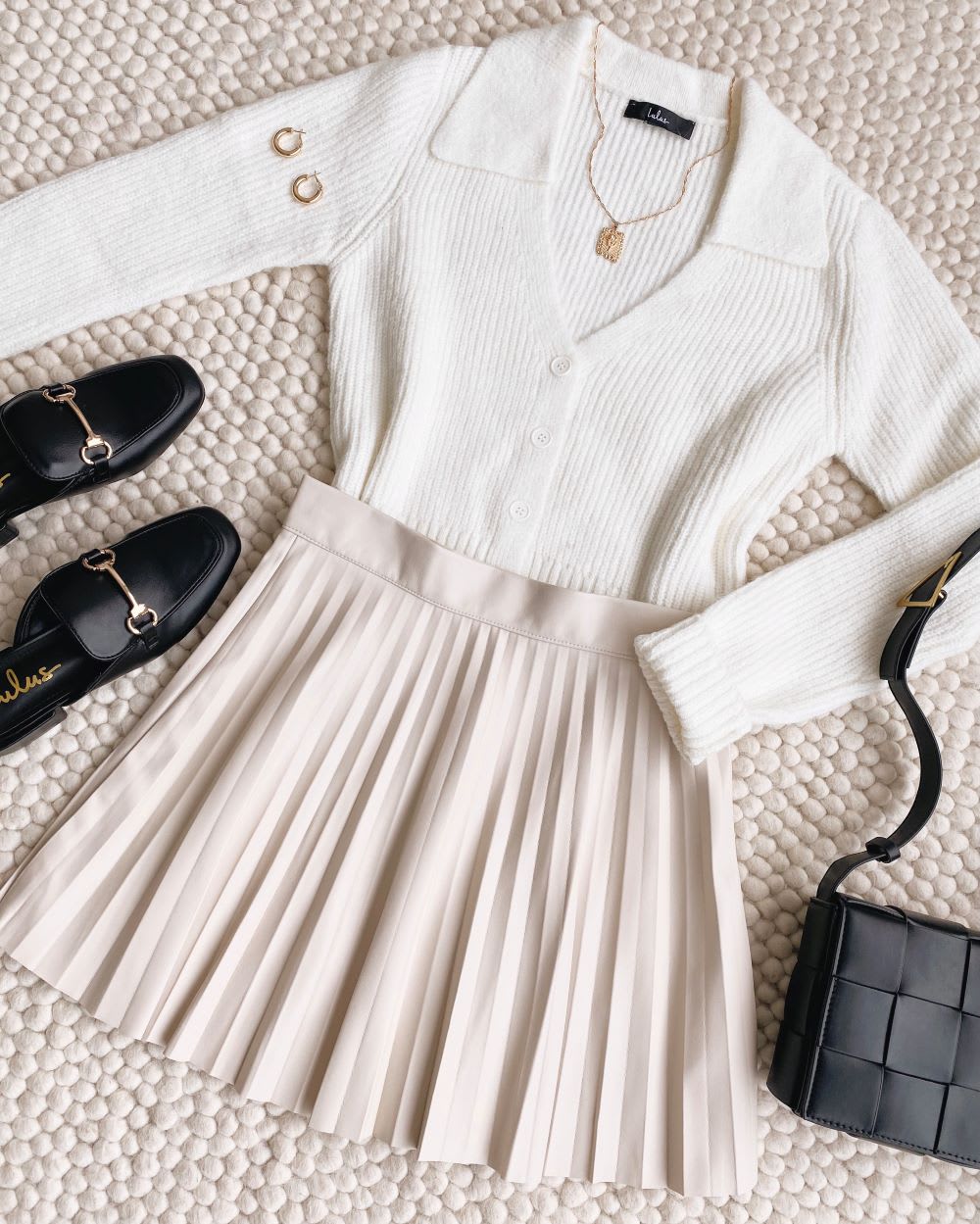 You heard it here first, folks: leather can be preppy! This adorable pleated leather skirt feels almost like a classic school uniform skirt, and combined with these lovely slip-on loafers and a simple button-up, this look will have you feeling like it's time to go back to school (no matter when you graduated!)
Pumpkin Spice Lady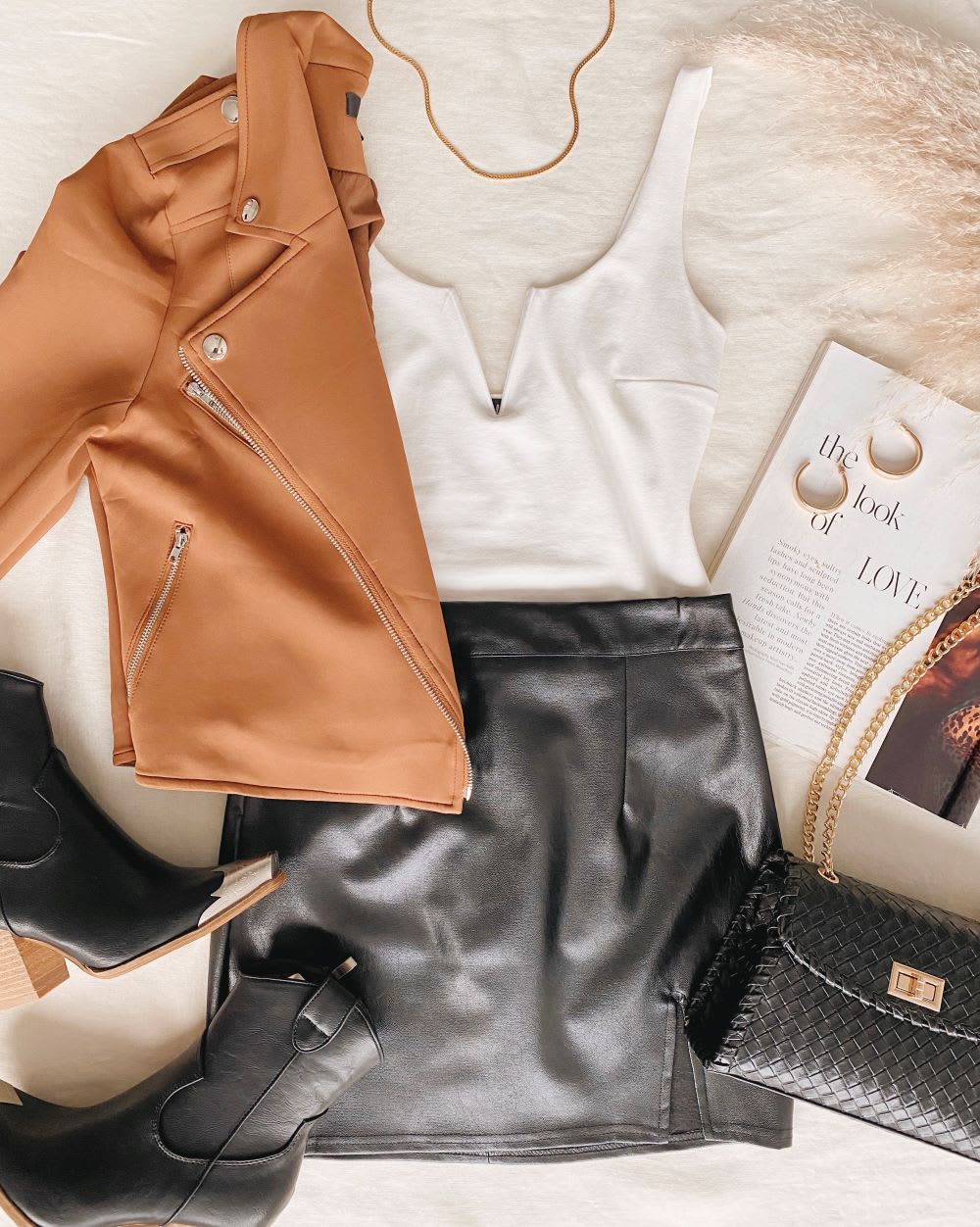 This leather skirt outfit is perfect for a bold woman who knows exactly what she wants! We've combined a sleek and classic black and white combo with an understated cognac jacket, which feels like the sophisticated older sister of pumpkin spice. 
Number 1 Pencil (Skirt)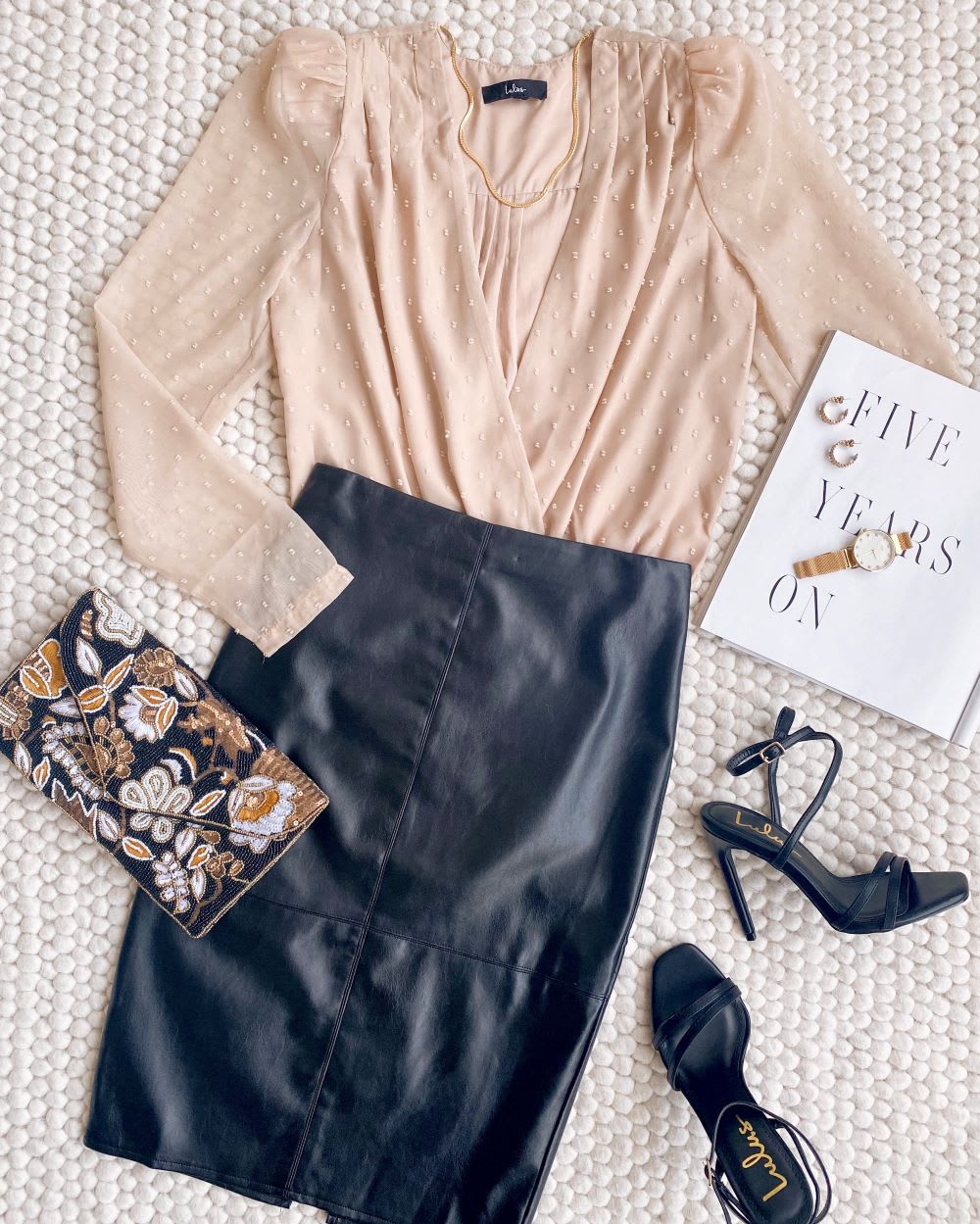 Feeling more like the teacher than the student these days? Slip on this adorable pencil skirt and romantic Swiss dot bodysuit! Paired with high heels and a beaded clutch, this look screams "teacher's day off."
Understated Glam Queen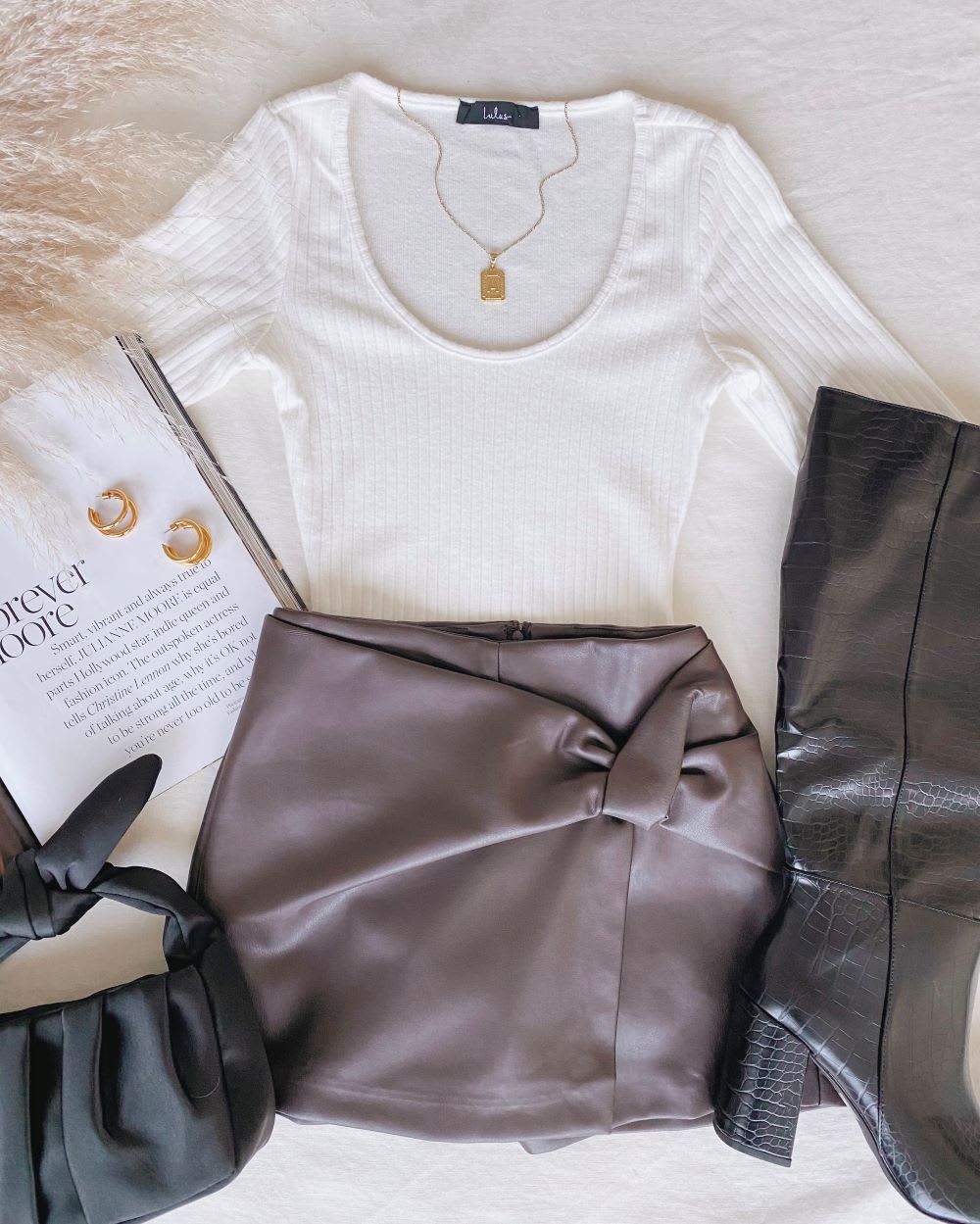 Embody all the glamor of Fall in a simple, monochromatic warm-neutral palette! Soft but still bold, you could wear this look on a date, at an important event, or anytime when you're craving a touch of glam in your everyday look.
Bougie Sweetheart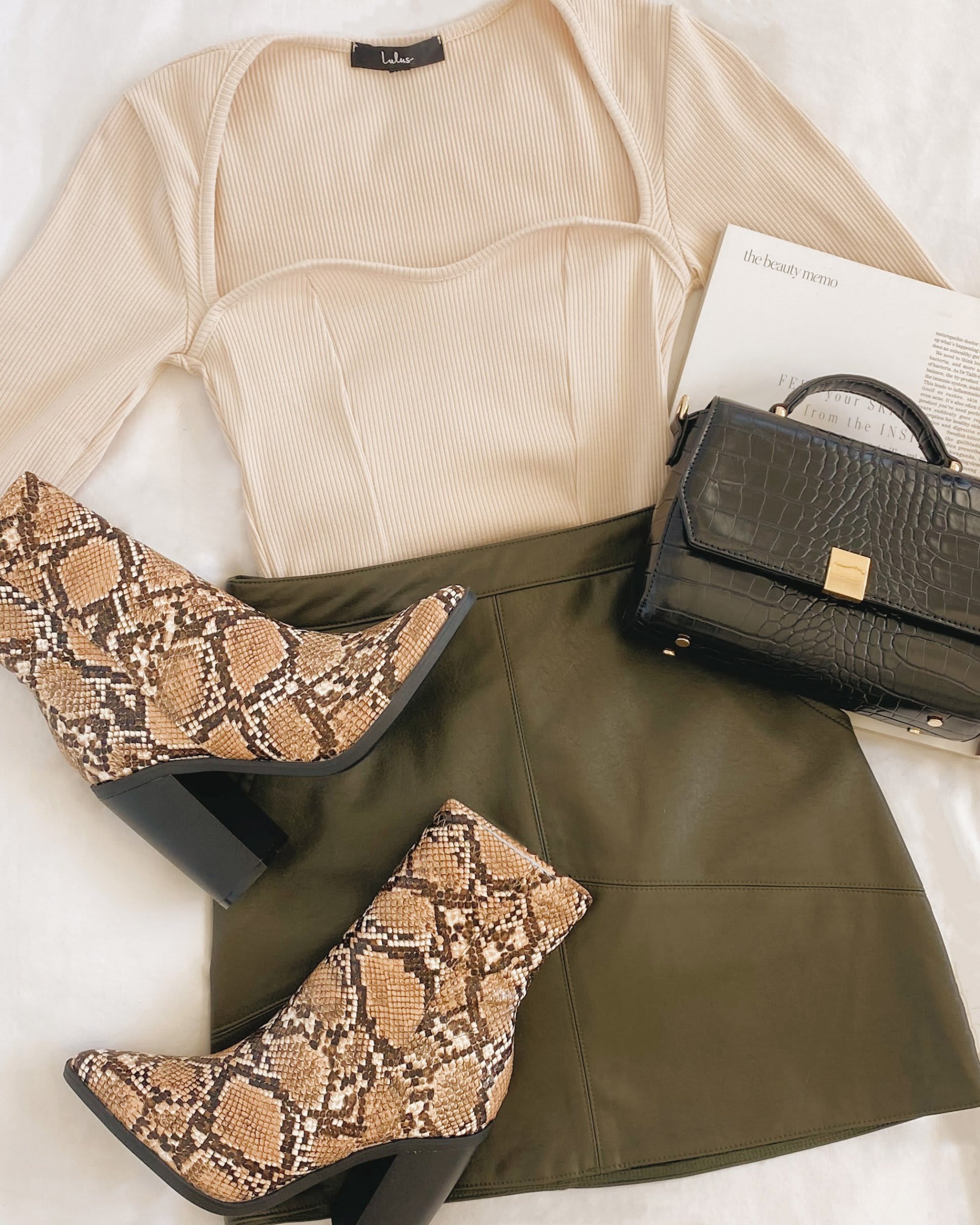 You're bougie and you know it –and that's what this outfit screams! Feel like an A-list celebrity or international jet setter in this fabulous fit, and show off your styling skills with these one-of-a-kind pieces. We particularly love how the cream, tan, and green tones play together in this outfit. For a more laid-back casual look, rock your favorite white sneakers and top it off with a fall cardigan.
Next-Level Neutrals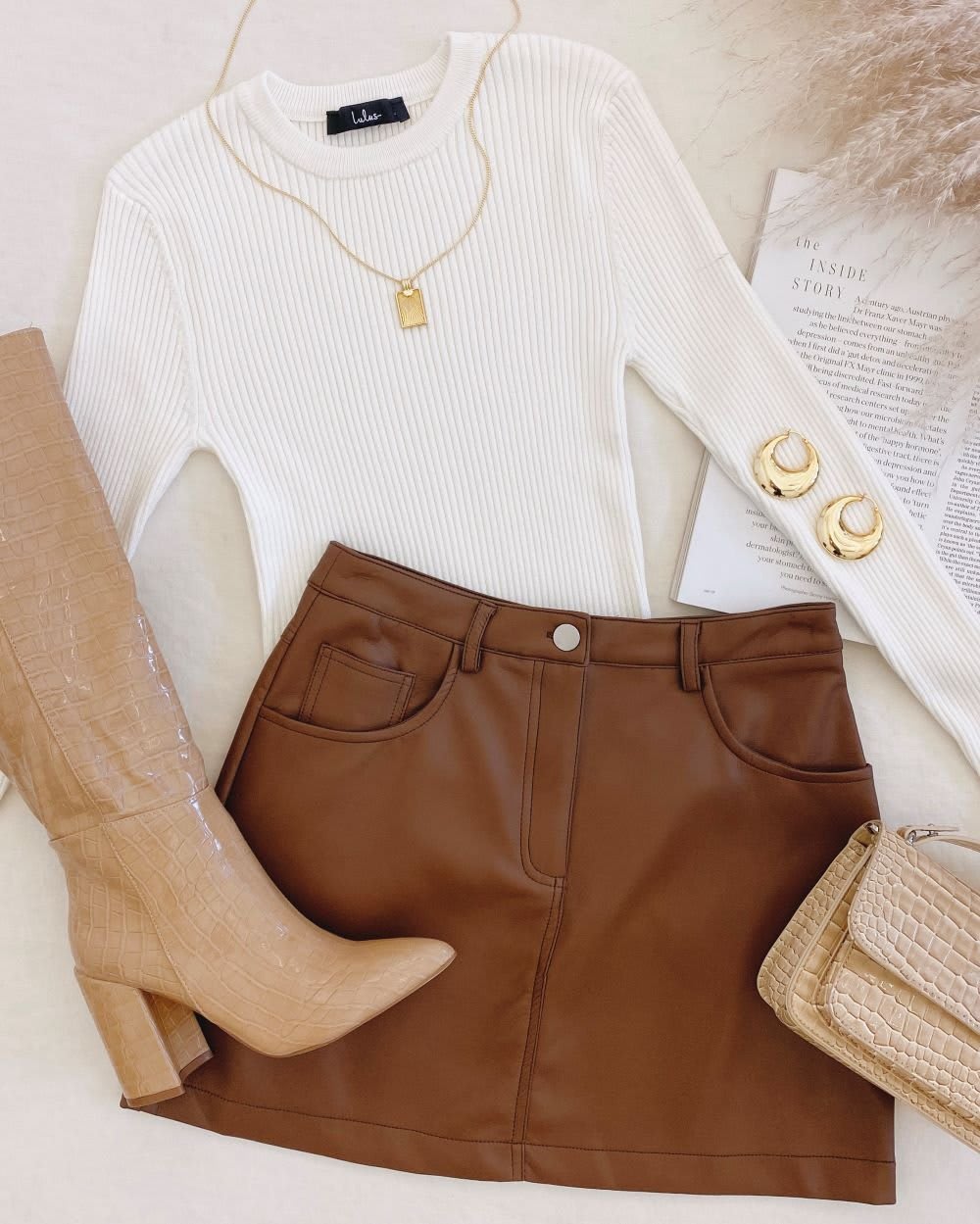 For a look that makes you feel both professional and sexy, go with a classic brown leather skirt paired with a simple long-sleeve knit top. Adding knee-high boots makes you ready for the chilly fall weather and elevates your entire look to head-turner status. Elevate your ensemble with sleek accessories, like polished gold earrings and necklaces, or your favorite watch. 
Giving the Cold Shoulder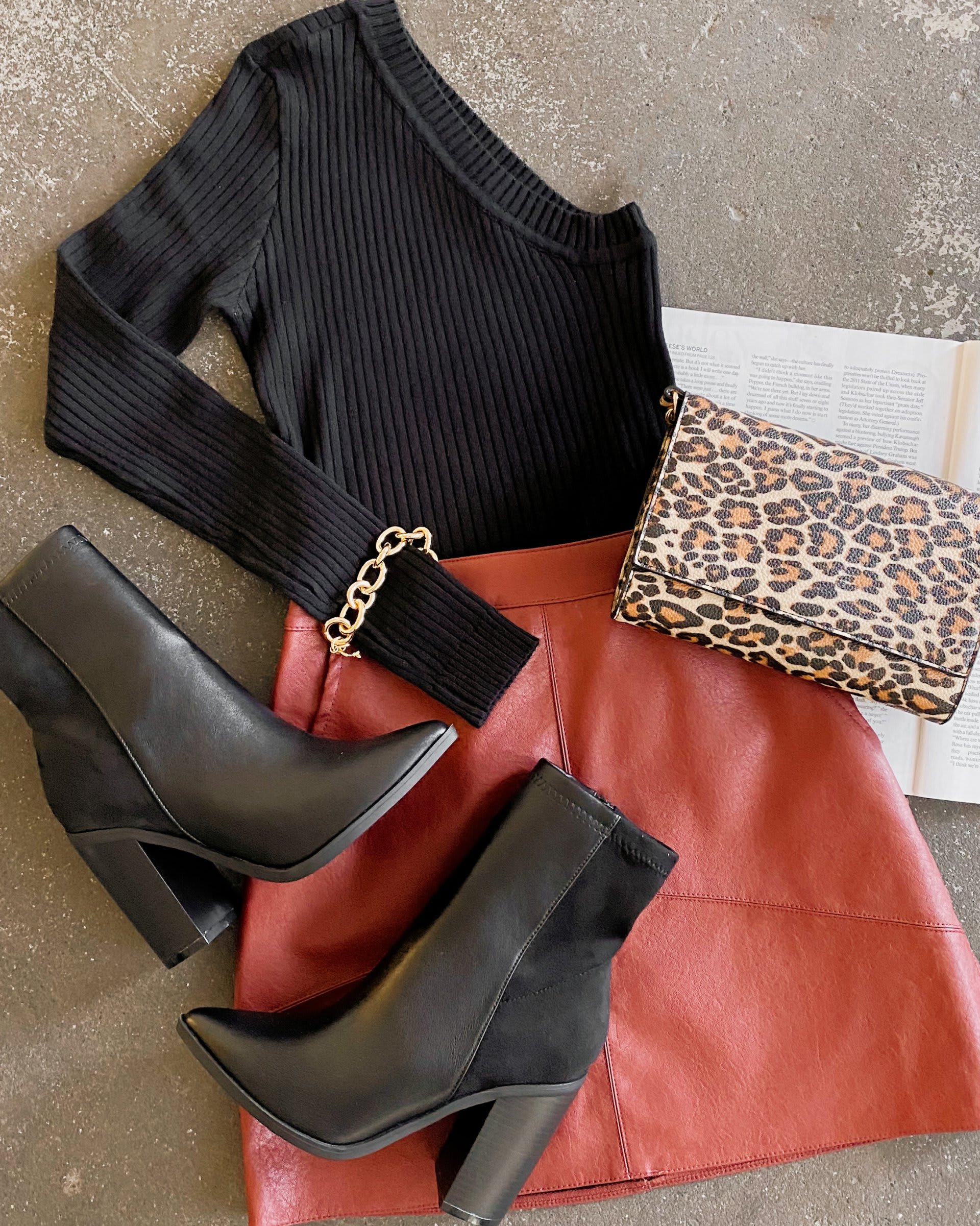 A chic burgundy vegan leather skirt is ideal for styling polished office outfits–but it also makes for a super-fun girls' night out piece. Take yours from desk to dinner by swapping out your work blouse for a ribbed one-shoulder black sweater, and slipping into a sexy pair of leather booties. You will definitely make a statement in this look, which is powerful, sexy, and fashion-forward. 
Sophisticated & Sultry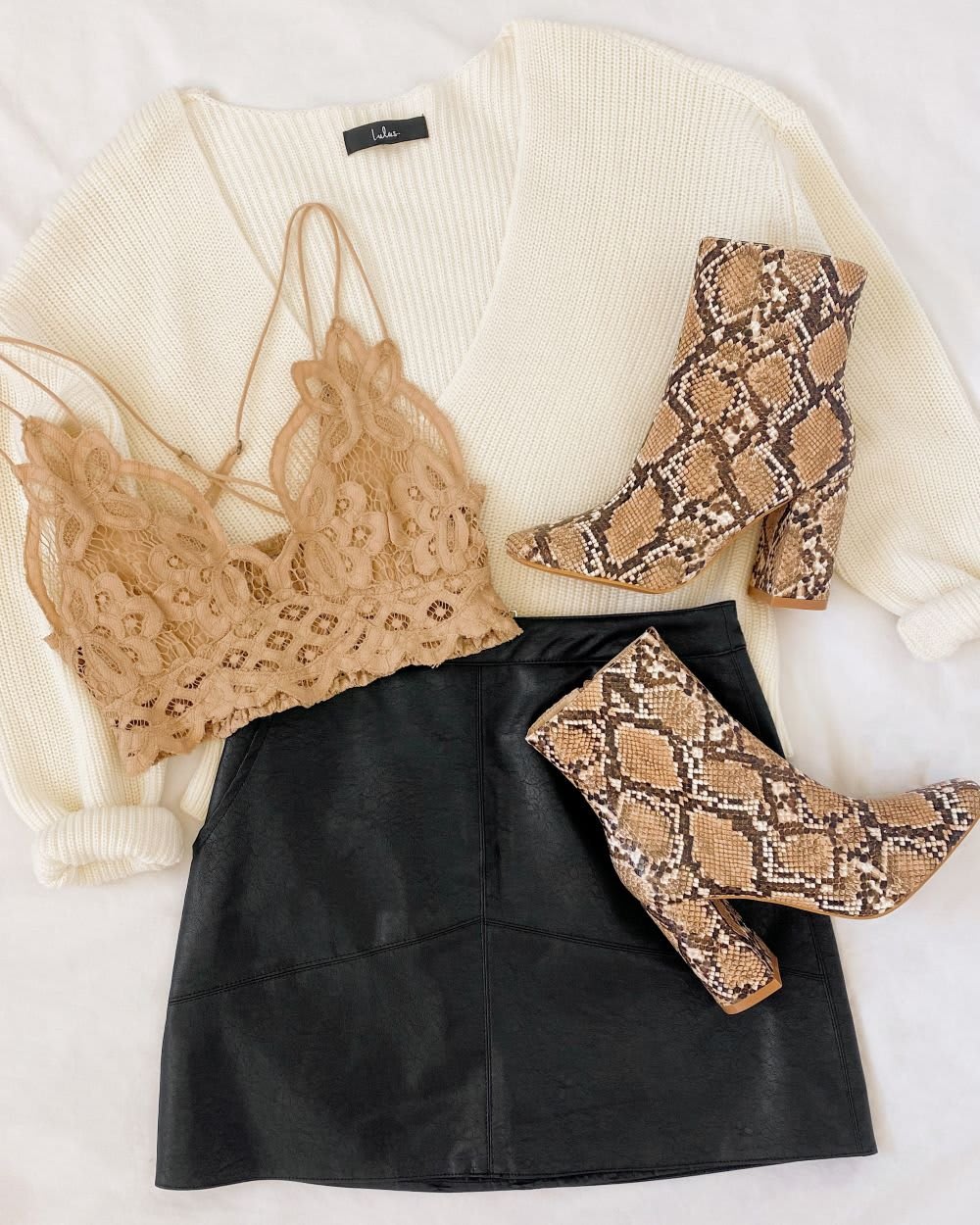 Want to throw together an effortless yet sophisticated look that can easily transition from day to night?  Perfect for a hot date or a night out with your besties, this sultry, sophisticated outfit is all about hidden details. The intricate lace bralette just barely peaks out from under the sweater, which gives the fit a cute flirty touch, and the shoes help to add edge.
We want to see your leather skirt outfits! Show us on Instagram @lulus using #lovelulus–and shop more vegan leather essentials for Fall and Winter!
For more posts click here